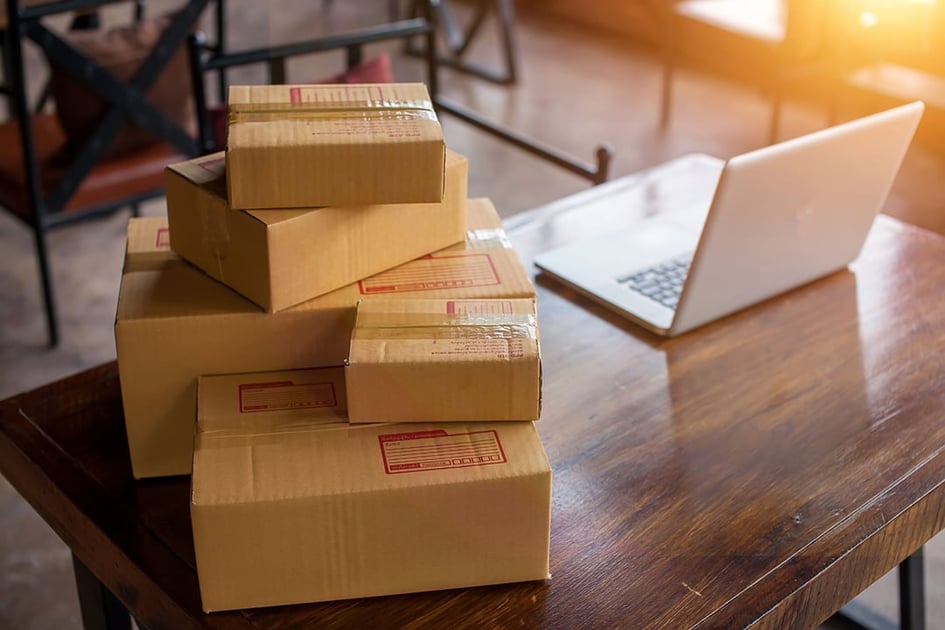 Small parcel delivery is not a new thing — People have been sending each other parcels for hundreds of years. However, with the advancement of technology and the increase in customer demands, small parcel shipping services and networks have grown in leaps and bounds.
This article will define small parcel delivery and discuss how carriers like UPS and USPS handle and deliver small packages.
What Is Small Parcel Delivery?
Small parcel delivery is the transportation and delivery of a small package from a sender to a receiver. So, what exactly is a small parcel?
Generally, a parcel is considered small if it weighs less than 70-100 lbs (32-54 kg) and can be handled easily by one person. This number varies depending on the carrier, however, so be sure to do your research.
The size and weight of a package also play a big part in determining how a parcel is transported and at what cost. Depending on the parcel's dimensions, rates can be based on its actual or dimensional weight.
Small Parcel Pricing: Actual Vs Dimensional Weight
The actual weight of a parcel is simply the weight reading when you measure your package on a scale. Dimensional weight is a measure of a package's density, which is the amount of space a package occupies in relation to its actual weight.
Dimensional weight is usually applied to large but lightweight packages. If regular weight pricing were used on such packages, the carrier would lose money since they would transport fewer goods on each truckload and therefore have to make more trips.
To determine if your small parcel will be charged by dimensional weight or actual weight, follow the steps below:
•

Weigh your parcel on a scale to get your parcel's actual weight.

•

Measure your parcel to find its width, height, and length in inches.

•

Multiply the length by width by height in inches. Round each measurement to the nearest whole inch. The resulting figure is your parcel's cubic size.

•

Finally, divide the cubic size of the package (in inches) by the DIM divisor to get the dimensional weight (in pounds).
Once you have the actual and dimensional weights, use whichever is bigger to calculate your shipping rates.
What Is the Difference Between Small Parcel Delivery and Less Than Truckload?
As we have established, small parcel delivery is the movement of small packages from source to destination. On the other hand, less than truckload is a parcel transportation system that transports packages bigger than small parcels but not big enough to fill up an entire truckload by themselves. With LTL shipping, different shippers share space on a single truck.
Apart from small parcel delivery and less than truckload, another package shipping system is full truckload. With FTL, all the space on a truck is dedicated to carrying one shipment from a single shipper - no sharing space.
The advantage of using LTL is that it saves shipping costs. Instead of paying for an entire truck to transport goods that only fill half of it, shippers can share space on a truck and share the costs as well.
What Does UPS Consider Small Parcel?
UPS small parcel definition is that a parcel's combined length and girth [(2 x width) + (2 x height)] must not exceed 118 inches (299.72 centimeters). A 'large package surcharge' will be applied to your shipments if that limit is exceeded.
Besides the large package surcharge, UPS bills large packages starting at the 90-pound rate. This means that even if your parcel is 45 pounds, you will still pay the 90-pound rate.
Aside from small packages limits, here are UPS general package shipping guidelines:
•

The maximum package weight is 150 lbs.

•

The maximum package length is 108 inches.
Depending on the type of your parcel, you may have different sizes and weight limits. To avoid paying surcharges or a high small parcel shipping cost, read the UPS guide on measuring packages and the UPS guide on packing shipments.
UPS Small Parcel Tracking
UPS, like other small parcel carriers, offers various tracking methods. The standard method involves using a tracking number or a reference number. All you need to do is enter the number into the search bar, and your parcel's status is displayed.
UPS offers more detailed tracking services as highlighted below:
UPS My Choice
Quantum View
Flex Global View
With UPS My Choice, shippers can ditch the tracking numbers and manage all incoming and outgoing shipments from one dashboard. Features include delivery updates via text and email, changing delivery date or location, and telling the driver where to drop the package.
UPS Quantum View is a solution for large businesses that ship many small parcels. This solution enables them to get notifications and custom-built views. These features give them an overarching view of all their supply chain data and shipment details, thereby improving efficiency and preventing losses.
By providing enterprise-wide tracking across multiple transportation modes, UPS Flex Global View is built to help global shippers get better control of their inventory supply chain. Using data, customers can keep their supply chain flexible and make critical decisions quickly.
USPS Package Size Limits
Below are USPS minimum and maximum limits for package size:
Minimum Size Limits
• If a package is 1/4 inch thick or less, it MUST be rectangular and at least 3-1/2 inches high by 5 inches long.
• Thickness: All mailpieces MUST be at least 0.007 inches thick.
Maximum Size Limits
USPS's maximum size in combined length and girth is 108 inches. The maximum size for most mailpieces is 108 inches in combined length and girth. USPS Retail Ground packages can measure up to 130 inches in combined length and girth. However, such parcels will be charged 'oversized' rates.
Maximum Weight Limit
USPS maximum weight of any mailpiece is 70 lbs. However, some classes of mail have lower weight limits.
Minimum Weight Limit
The smallest box you can ship with most USPS services is a 1-pound box. For Priority Mail Express, the smallest box you can ship is 0.5 pounds.
How ShipSigma Can Help
At ShipSigma, we are hyper-focused on small-parcel shipping. We combine our proprietary cost modeling software and contract negotiation skills to craft the best shipping contracts for your company.
Reach out to us today to see what savings you can achieve on your small parcel shipping costs.