Over $1Billion in Live Market Data
We could not say enough good things about our relationship with ShipSigma. Beyond the initial savings, they continue to find us new angles for savings, set up dashboards specific to our needs, and meet with us quarterly to go through reporting/review savings/new opportunities. ShipSigma has been more than just a service for us, they have been a continuous partner as we navigate the difficulties of controlling our freight costs and holding the vendors accountable.
4 hours. It took less than 4 hours of my time for my company to see half a million in annual savings. No headaches, no feet-dragging negotiations, no confusing documents. It was so easy.
The insights and analytics, ShipSigma provided before and after negotiating our carrier agreements, make it clear we have a long-term partner who is aligned with our company values. The cost modeling and rate simulation let us know the exact savings we would see, down to the last cent. After running our historical data, ShipSigma was able to find us almost 28% in annual shipping savings with our same carrier.
Our team managed billions of dollars of various category spend. To have ShipSigma guarantee a savings and then fully execute so that we're realizing increased EBITA within 60 days allows us to focus on other strategic opportunities.
We thought we had the best rates. We were told we had the best rates. ShipSigma got us better rates. They found us nearly 25% in savings and helped us renegotiate our contract with our carrier. It was just so easy.
The parcel invoice audit was a lifesaver for us. The team at ShipSigma monitored the weekly audit and noticed that instead of shipping air, over 60% of our packages could have traveled ground with no delay in arrival. They saved us more money than we had ever saved in our manual audit process.
Realize Your Cost Savings Today
On average, our customers achieve 20-30% in measurable cost savings within the first 4-6 weeks of engagement.
Shipping Insights and Analytics
There's a lot more to parcel shipping—especially in a high-volume context—than the basic UPS or FedEx rates. While some companies might be content to ask their selected carrier "what's it going to cost?" and then pay that sum, they're missing out on the type of invaluable savings recouped by companies that leverage shipping insights and analytics to optimize their spending and get the best shipping rates possible.
Shipping insights and analytics can help your business answer questions like:
Why are parcel shipping rates so high?

What trends and innovations in parcel shipping should you know about?

What kind(s) of data should you be looking at to better understand and optimize shipping rates?

What are the impacts of digital transformation in the parcel shipping industry?
Why Are Parcel Shipping Rates So High?
If you at any point last year found yourself asking, "Why are shipping rates so high in 2022?", then you're undoubtedly wondering the same about 2023 and beyond.
One reason parcel shipping rates have climbed to their current levels is due to routine carrier rate increases and peak season surcharges. In 2023, UPS and FedEx each raised their rates:
UPS raised rates by an average of 6.9%; with individual services increasing by as much as 20.5%.
FedEx also raised rates by 6.9%; with individual services increasing by as much as 19.6%.
These rates represent averages. You can expect variations based on parcel kind, carrier method (ground, air, etc.), and industry.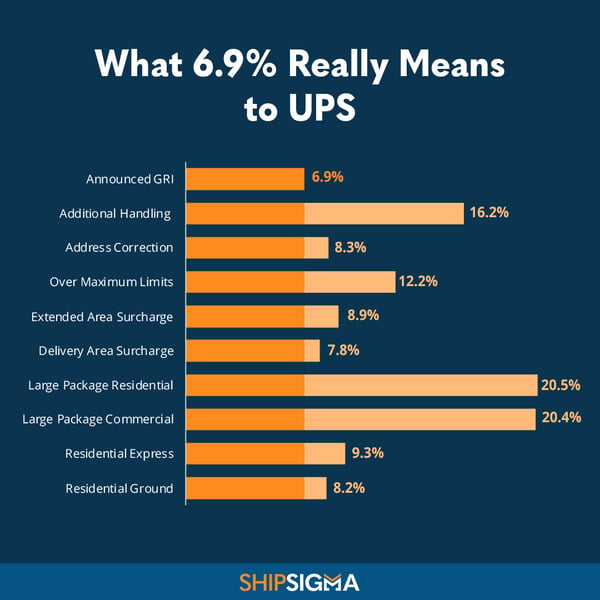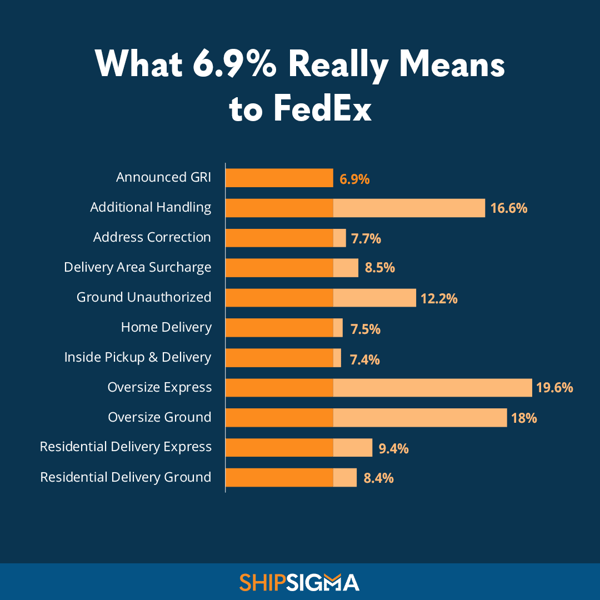 It's important to note that these rate increases began to happen BEFORE the war with Russia and Ukraine, which is putting incredible pressure on Oil and Gas markets, increasing the likelihood that rates may climb even more in the years to come.
Is There Relief In Sight?
There's little reason to believe annual rate increases won't continue. That being said, once you understand what you're up against when trying to manage your carrier contract—and what insights and analytics you could have on your side—you'll be in a much better position to secure better rates.
Recent McKinsey research suggests there may be some relief if and when we get the COVID-19 pandemic under control. This unprecedented public health crisis understandably put more strain on shipping companies and carriers. There is hope that the future of the shipping industry after Covid will be a more affordable one. First, though, supply chains will need to catch up.
What You're Up Against: How Parcel Carriers Try To Get the Upper Hand
Unsurprisingly, parcel carriers are just as driven to optimize costs as you are. A few examples of how parcel carriers tend to have the upper hand in the average rate negotiation scenario include:
Offering substantial discounts, but in areas that are irrelevant to your contract

Incentivizing with "earned discount tiers," but with calculations and applications that don't necessarily benefit your use case

Including guaranteed service refund waivers in contract terms, more as a last resort to get a contract signed (rather than having your best interests in mind)
In too many cases, however, the carrier simply has the upper hand in that they're more familiar with the granular details of your shipping data and what it means than you are. Without an understanding of the details of your own shipping history and trends in the data, you're letting the carrier occupy the driver's seat. You're trusting them to put their interests aside to promise you what they'll position as a great rate.
This underscores the importance of having insights and analytics on your side when it comes to invoice auditing, contract management, and more. In short, you can't improve what you can't detect.
Understanding the Landscape: Trends and Innovations in Parcel Shipping
While it's easy to get bogged down in contract terms and the granular details, there are larger trends at play that will also inevitably impact shipping rates. By pairing an understanding of your shipping rates and contract details with an understanding of larger industry trends, you can start thinking about the relevant shipping insights and analytics applicable to your particular situation. So, how has technology changed the shipping industry? What might the future look like? Here are a few trends to be aware of:
General Trends in the Shipping Industry from 2020 and Beyond
What follows are the top trends impacting the parcel shipping industry right now:
A Market Led By Carriers
With the growth of eCommerce—further fueled by the COVID-19 pandemic— the general demand for parcel delivery continues to surge as well. Even UPS and FedEx are finding themselves more frequently "at capacity" (or dealing with a driver shortage) and in a position where they can decline new contracts. Between the major carriers' ability to be more selective in the contracts they take on, and the emergence of smaller, independent carriers willing and able to take on some of the business ("gig economy" carriers), shippers are wise to do their due diligence in considering their options.
Artificial Intelligence (AI)
Applications of artificial intelligence in the shipping industry are wide-ranging and always evolving. AI features can collect and leverage strong data sets to more accurately predict and track shipping times, identify and mitigate inefficiencies in core business processes, strengthen security, and more. With so many (literally) moving parts involved in the supply chain—even in the shipping stage alone—AI can not only provide crucial insights and analytics, but suggest logical actions in response.
Autonomous Vehicles and Drones
Autonomous cars and trucks will eventually become normalized within the parcel shipping industry, cutting costs by eliminating the need for an entire workforce of (human) drivers to make deliveries. In fact, Forbes predicts that automation in the shipping industry will enable delivery within 30 minutes of order processing in many cases.
Changes to Supply Chain Logistics
When COVID-19 struck supply chains across the nation and globe, shipping companies found themselves dealing with unprecedented logistics problems to solve. In many cases, shippers are developing innovative, efficient, and cost-saving solutions to keep shipments moving. When companies can adjust inventory management processes based on quality data—eCommerce, logistics, and inventory performance data, for example—they can feel confident that they've made data-backed decisions rather than trusting their gut.
Emergence of Reverse Logistics
As eCommerce continues to grow more prominent, increasing shipping volume and demand, something else also goes up: the number of products that need to be returned to the stores and suppliers they were sent from. Stores and companies can scale up their return capabilities by analyzing the data around returns, in order to predict and accept the volume of returns without costs getting out of hand.
Carrier Tracking and Delivery Monitoring
This trend is a more literal interpretation of "shipping insights,"in which shippers can track carriers and monitor deliveries in near real-time—including the condition of parcels as they reach their destination. These capabilities mean shippers and carriers can both be in the know, keep tabs on priority shipments, and make sure the outcomes (completed deliveries) meet expectations. The easier tracking and monitoring become, the easier it is for shippers to make sure their carrier is meeting their contractual obligations.
Digital Transformation in the Shipping Industry
Taking a wide view of the technological innovations in the shipping industry, there is a digital transformation underway that is making it even more important for shippers to comprehend their own shipping data and how it relates to the terms of their carrier contracts.
"Digital transformation" is a general term that can refer to many different things. For example, among the exciting innovations McKinsey research identifies as "the next normal" of parcel delivery, like autonomous delivery of small parcels via drone, and the development of autonomous trucks. Data analytics infuse the entire supply chain management process, helping modern companies to better meet their customers' evolving needs and preferences. By investing in new software, shippers can streamline order fulfillment and save costs, helping them keep up with the competition.
At the heart of the digital transformation is data—Big Data.
What Is "Big Data" and How Does It Impact Parcel Shipping?
At the root of these innovations and technological advancements is one vital currency: data. Whether you're trying to perform invoice audits, prepare for carrier contract management, or better understand the competitive landscape and trends impacting the parcel shipping industry, you'll need to have a grasp of Big Data.
By definition, Big Data refers to "extremely large data sets that may be analyzed computationally to reveal patterns, trends, and associations, especially relating to human behavior and interactions." It's not just a mountain of data—it represents a mountain of potential new insights.
More specifically, Big Data is often discussed in terms of the three V's:
Volume: It's a lot of data, gathered from a variety of disparate sources, brought together under the umbrella of Big Data.
Velocity: With much of the data collection process automated, Big Data is collected and made available for analysis in real-time.
Variety: Between structured and unstructured data, Big Data provides a well-rounded collection of vital information.
SAS Analytics adds two additional V's to the mix:
Variability: This refers to an agile ability to respond to trends in the data, as they're observed—these could be seasonal or event-triggered, for example.
Veracity: Considering that Big Data comes from a variety of sources and is collected in a variety of ways, this refers to the linking and connecting of these data sources to identify correlations.
When it comes to the specifics of how modern companies can leverage Big Data in shipping, the first consideration is the quality of the data. Just because a mountain of data can be (or has been) collected, it's only as useful as it is timely and accurate. Garbage in, garbage out, as they say.
For a full picture of shipping insights and analytics, Big Data (good Big Data) is essential. When it meets the 5 V's of Big Data—or you partner with a company like ShipSigma who specializes in these types of insights and data—it can be used to make smart and timely business decisions.
What Types of Shipping Insights and Analytics Can Help Shippers Be More Effective and Cost-Efficient?
Several different terms categorize the types of data to be considered when seeking out insights and analytics that can help maximize shippers' return on investment.
Factors That Affect Parcel Shipping Costs
A carrier contract's bottom line only tells part of the story. To ensure you're getting rates that are in line with the market, here are a few specific factors to know about that affect parcel shipping costs:
Carrier rates
Customs duty and taxes
Delivery speed
Delivery surcharges
Parcel destination
Parcel dimensions
Parcel weight
Shipping insurance
Additional Shipping Performance Indicators
Other key performance indicators that illuminate different aspects of shipping that can help ensure that carrier agreements are upheld and deliveries are occurring as expected:
Accuracy of orders/shipments
Delivery time (ideally tracked in real-time)
Identifying and addressing potential inefficiencies in shipping processes
Inventory tracking, including returns
Quantity of orders shipped
Shipment condition
Transit-related costs
Warehouse and facilities management and expenses
Business Analytics in Shipping
Another specific type of insights and analytics relevant to the parcel shipping industry is business analytics. In simple terms, business analytics refers to the use of data to identify and solve inefficiencies and other challenges.
Paying attention to business analytics helps to contextualize shipping performance through shipping cost analysis. Among the most important metrics to consider as components of cost analysis include:
On-time deliveries: While an average of 3-5% of packages reaching their destination late may seem minor, for high-volume shippers that equates to a mountain of late parcels and dissatisfied customers. Carriers typically will refund some of these costs, but waiting for those refunds and tracking to make sure they're processed creates inefficiency.
Deliveries without damages or errors: In addition to being on time, the other major expectation of carriers is that deliveries are made without significant errors or damaged shipments. While occasional errors and damage are inevitable, shippers should expect the outcomes they're paying for—on-time, intact deliveries.
Zone distributions: Breaking data down by zone distribution helps provide insight into carrier reliability and consistency. Carriers' rate structures normally consider zone distribution as a factor—the basic idea being that parcels traveling over a longer distance will take longer and cost a bit more. It's not quite that simple, though, as over time carriers can redistribute their carrier network to prioritize shipments to zones with high volume. This means they are charging for an additional expense they aren't actually paying. With increased insight into your own data, you can also identify scenarios where you're utilizing unnecessary service levels—for example, paying for 2-day air shipping to Zone 2 when ground shipping to the same zone takes the same amount of time but costs significantly less.
Surcharges and accessorial charges: Surcharges and accessorial charges are what make activities like invoice auditing and contract management so essential. Carriers scatter these various charges throughout their contracts with shippers. In fact, data pinpoints accessorial charges as the number one complaint shippers have with their carriers. These are any additional costs that go beyond parcel pickup, delivery, and drop-off—packaging costs, toll charges, and fuel surcharges, for example. These might be fixed or variable, which can make it even more difficult to figure out exactly what these charges are, how they're being applied, and whether they can be mitigated.
Service provider responsiveness: Considering how intertwined shippers are with their carriers, having a positive, trusting relationship just makes life easier. In that way, the shipper-carrier relationship is no less important than the customer/business relationship. Trust and responsiveness go a long way, especially when it comes to transparency around rate structures, accessorial charges, and so on.
Each of these dimensions of business analytics in shipping can help you better understand, manage, and optimize your shipping spend.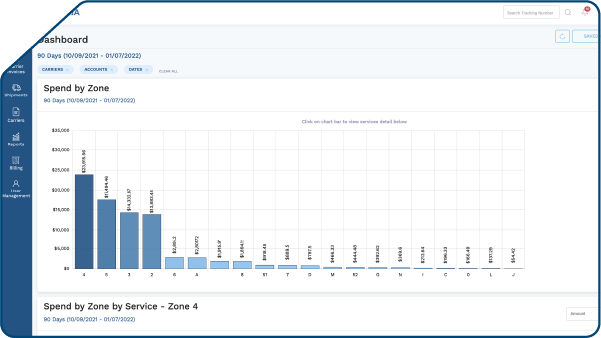 Predictive Analytics in Parcel Shipping
As part of the digital transformation of the logistics, supply chain, and shipping industries, one specific type of data analytics in the shipping industry is especially useful in the context of invoice auditing and contract management—predictive analytics.
Building on the foundation of past and real-time data tracking to derive performance insights, predictive analytics goes a step further by providing anticipatory logistics. This way, shippers and carriers can make any adjustments necessary to ensure that not only current needs are being met, but future needs as well.
Within the larger logistics industry, predictive analytics is considered to have the biggest overall impact on the supply chain's performance—and this was the case even before the COVID-19 pandemic brought awareness to the importance of anticipatory logistics.
A recent study by the Council of Supply Chain Management Professionals revealed that:
93% of shippers (and 98% of third-party logistics firms) feel like data-driven decision-making is crucial to supply chain activities.
71% of shippers believe that Big Data improves quality and performance.
It's no wonder that predictive analytics is a hot topic for 2022 and beyond—especially when you consider how it helps shippers reduce parcel shipping costs and prevent shipping breakdowns.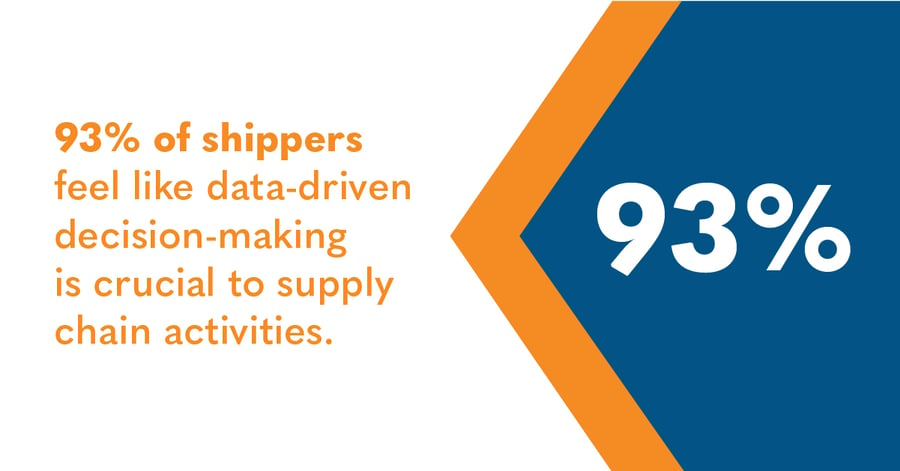 How Can Predictive Analytics Reduce Parcel Shipping Costs?
Without the ability to project future costs with some accuracy, shippers are left operating under the dicey proposition of counting on the past to simply repeat itself. The past doesn't tend to repeat itself, though. Three distinct applications of predictive analytics that can be leveraged to help identify areas for cost-saving include:
Rate Scenario Analysis: With the right data available, companies can assess the potential impact of carrier rate changes.
Real-Time Responses: Status updates provide transparency into delivery conditions and performance. With predictive analytics on your side, common statuses and exceptions can be categorized, so that moving forward you can make the right decisions regarding delivery expectations and carrier options.
Real-Time Procurement: Since carrier performance varies according to distribution zones, required services, and other factors, it's important to have insight into the impact of these variations. The more insight shippers have into carriers' performance metrics and outcomes, the better-positioned they are to make the best—and most cost-effective—decisions regarding their carrier contracts.
How Do You Use Analytics to Prevent Shipping Breakdowns and Delays?
When shipping breakdowns occur, for any reason, shippers can find themselves scrambling for solutions. Another benefit of predictive analytics is the ability to mitigate problems before they cause a shipping breakdown. By keeping an eye on real-time analysis and real-time responses (as discussed above), shipping companies can identify early problems—whether bottlenecks or other inefficiencies—and mitigate them before a few delivery delays lead to a full-fledged shipping breakdown.
Applying Insights and Analytics to Invoice Auditing and Contract Management
With the right software, shipping companies can use predictive analytics to collect, optimize, and normalize data; engage with and act on real-time analytics; and better understand and communicate with shipping and carrier partners.
What Is Shipping Analytics Software?
Shipping analytics software collects data from a variety of sources including a company's own records, normalizes and validates the data, and enables shipping managers to make timely decisions based on predictive analytics.
An innovative shipping insights and analytics platform like ShipSigma's leverages an extensive network of data to provide unmatched insights and cost-saving recommendations. This foundation adds a layer of visibility and transparency to the behind-the-scenes data science in the shipping industry. ShipSigma also performs predictive rate simulation and cost modeling, uncovering actionable insights to streamline processes and realize cost savings.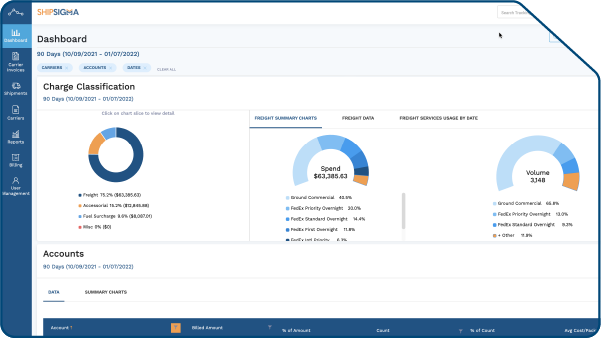 Invoice Auditing and Contract Management
Two highly-effective ways to leverage Big Data analytics software to realize cost savings are through invoice auditing and contract management.
Parcel Invoice Auditing
ShipSigma has fully automated the audit and reporting processes, reducing the cost of every shipment with instant savings (no long-term contract required). Through the use of AI, invoice auditing is made easy: the platform automatically scans invoices, submits and verifies claims, and provides automatic savings.
Learn more about what goes into ShipSigma's parcel invoice audit capabilities.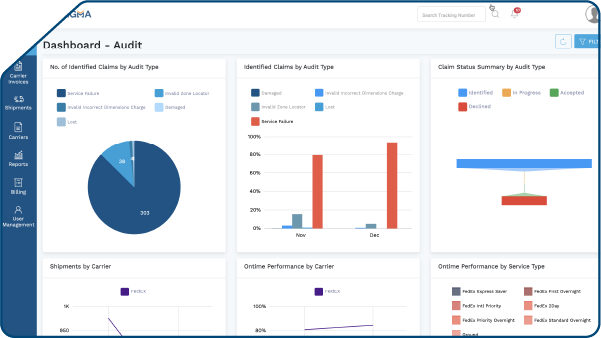 Carrier Contract Negotiation
ShipSigma's contract negotiation services help shippers cut parcel shipping costs without having to do a thing. AI enables the platform to guarantee savings through a transparent process. You'll know what you can save before any negotiations occur—with precise figures, not estimates.
Learn more about how ShipSigma can transform your carrier contract negotiation.
Contact us today to learn more about how we can provide the shipping insights and analytics that will save you money today.