Shipping Audit
A shipping audit can determine when, where, and how you are being overcharged. By identifying recurring issues and mistakes, your process and savings will improve.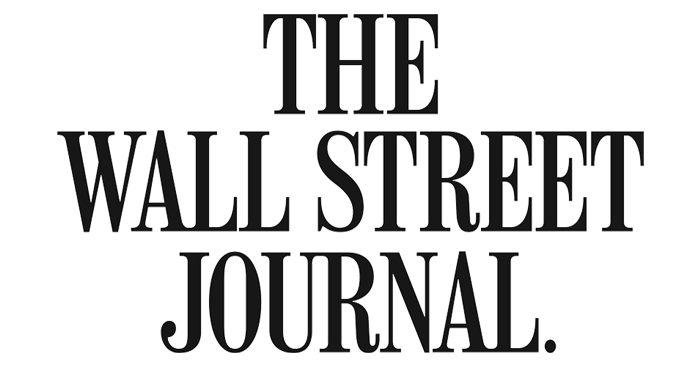 What is a Shipping Audit?
In short, a shipping audit is when a company's shipping bills and invoices are reviewed extensively to locate incidents of overcharging and service failures associated with errors in the shipping process. The main goal is to identify when, where, and how you are being overcharged.
Fully automated invoice auditing
50+ audit points including late shipments, invalid surcharges, & lost and damaged packages
Contract Compliance
Automatically identify, submit, and verify claims
Reduce the cost of every shipment
Instant savings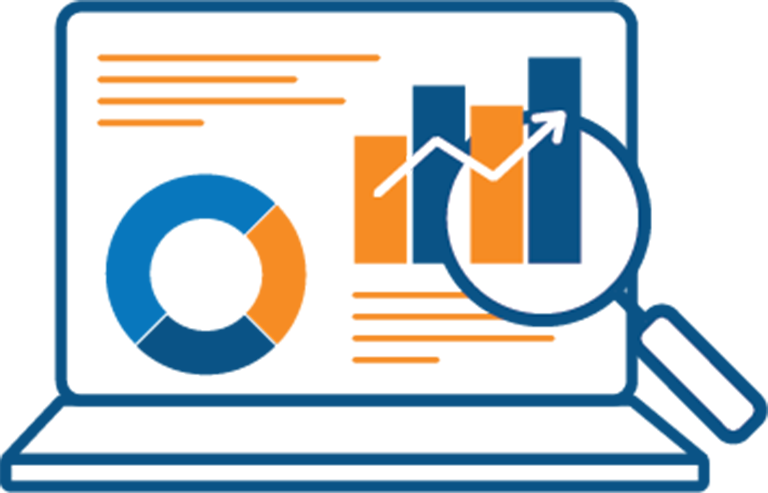 See What Our Customers are Saying
We could not say enough good things about our relationship with ShipSigma. Beyond the initial savings, they continue to find us new angles for savings, set up dashboards specific to our needs, and meet with us quarterly to go through reporting/review savings/new opportunities. ShipSigma has been more than just a service for us, they have been a continuous partner as we navigate the difficulties of controlling our freight costs and holding the vendors accountable.
Tyler B.
Vice President of Finance, Leading Global Manufacturer
4 hours. It took less than 4 hours of my time for my company to see half a million in annual savings. No headaches, no feet-dragging negotiations, no confusing documents. It was so easy.
Todd M.
Vice President, Food Manufacturer and Distributor
The insights and analytics, ShipSigma provided before and after negotiating our carrier agreements, make it clear we have a long-term partner who is aligned with our company values. The cost modeling and rate simulation let us know the exact savings we would see, down to the last cent. After running our historical data, ShipSigma was able to find us almost 28% in annual shipping savings with our same carrier.
Jonica H.
Controller, Market Leading Wine Distributor
Our team managed billions of dollars of various category spend. To have ShipSigma guarantee a savings and then fully execute so that we're realizing increased EBITA within 60 days allows us to focus on other strategic opportunities.
Randy H.
Chief Procurement Officer, Leading Provider of Pork Products
We thought we had the best rates. We were told we had the best rates. ShipSigma got us better rates. They found us nearly 25% in savings and helped us renegotiate our contract with our carrier. It was just so easy.
Brad M.
Chief Operations Officer, Clothing Retailer
The parcel invoice audit was a lifesaver for us. The team at ShipSigma monitored the weekly audit and noticed that instead of shipping air, over 60% of our packages could have traveled ground with no delay in arrival. They saved us more money than we had ever saved in our manual audit process.
Julie F.
Chief Financial Officer, Industry Leading Retailer
Save Big with our Parcel Invoice Audit
Our audit platform automatically identifies, submits, and verifies claims on your behalf.
No upfront costs. No risk.
Shipping Audit
According to The Wall Street Journal, shipping prices are expected to continue increasing throughout 2022 and beyond, it's never been more important to ensure that your shipping contracts with third-party providers are being honored on a shipment-by-shipment basis. If any part of your invoicing process proves to be inaccurate, the build-up of increased shipping fees can soon overwhelm your businesses, negating any cost-cutting value achieved in initial shipping contract negotiations.
But there's more at stake than just shipping costs when you pull back the curtain on individual shipping invoices. A parcel invoice audit shines a light on instances when shipments are delayed yet you're still charged for expedited shipping fees. It identifies when packages are shipped to incorrect destinations, or when packages fail to arrive at all.
A shipping audit exists to provide transparency about what you actually pay for in every step of the shipping process. Sometimes the information you discover over the course of an internal shipping audit can provide enough evidence to warrant revisiting your contract with third-party shipping providers.
What Is a Shipping Consultant?
In the same way you know your business better than anyone, shipping carriers have an advanced lay of the land when it comes to their processes, capabilities, price flexibility, and how they compare to their competitors.
Businesses using third party carriers don't typically have access to this information, potentially putting them at a disadvantage when it comes to negotiating or renegotiating a service contract. You compete for a rate you believe matches the quality promised, but could you be paying significantly less on your shipping rates each year?
A shipping consultant acts as a liaison between businesses and shipping carriers. They push for adjustments to contracts when they believe their clients aren't receiving fair terms. Shipping consultants often have a background working with major carriers and are privy to pricing methodologies—knowledge that proves to be helpful when negotiating terms on behalf of businesses relying on parcel and freight shipping services.
For a shipping consultant to successfully renegotiate terms, performing a parcel or freight audit process is a necessary first step to evaluate potential areas that businesses are losing out on. This includes shipping rates and service levels that aren't beneficial for their customers.
What Is a Shipping Audit?
A shipping audit can determine when, where, and how you are being overcharged. By identifying patterns of overcharging, you improve your processes moving forward and you provide your shipping consultant the evidence they need to potentially renegotiate terms with the responsible carrier.
There are a lot of variables when it comes to determining a rate on an individual package—weight, size restrictions, shipping class, destination—and if even one of those is categorized incorrectly, you could be looking at hundreds of dollars of overcharge per shipment. For businesses sending out hundreds of thousands of parcels, those overcharges quickly add up.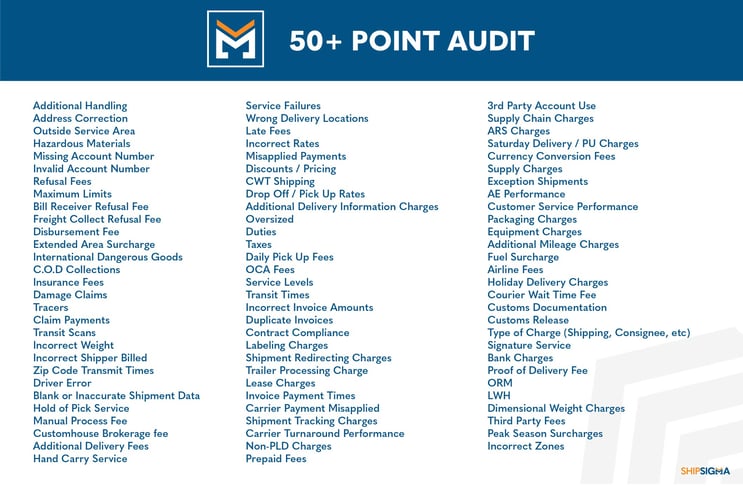 As you increase parcel shipments to meet the growing demand of your business, it becomes more difficult to manage and track shipping rates on individual packages or freight shipments.
The parcel audit process can be conducted in three ways:
Manual audit – Invoicing data is collected and manually investigated to potentially identify questionable changes in shipping fees, including errors during the label creation process (weight, shipping class, etc.) and duplicate shipping charges, among others. The process is inefficient and often inaccurate, and it requires trained eyes, and unlimited hours, to have any substantial effect.
Freight or parcel audit software – The next option involves purchasing the parcel audit software necessary to track and organize invoice data from your shipping processes. This also requires staffing and training individuals who regularly look through case-by-case instances to identify errors. While it is far more efficient than manual auditing, the responsibility still falls on your team to investigate the data.
Third-party parcel audit services – The final option is to work with a third-party parcel audit services provider who can conduct an independent shipping audit using their own software, tools, automation, and reporting technology to analyze your shipping history and invoices. At ShipSigma, we use AI-powered technology to conduct audits and uncover opportunities to reduce shipping rates.
Auditing is a key component in ShipSigma's process of identifying overcharges, conducting cost analysis, negotiating carrier contracts, and providing real-time analysis of shipping rates and efficiencies.
What Is Done During an Audit?
If you spent hours combing through a stack of your business' shipping invoices from the previous month, you'd quickly find a couple of eye-raising surcharges. After a little more time, you'd likely feel overwhelmed by the amount of data and potentially erroneous charges that didn't make sense. This is just the beginning.
An audit looks at invoicing data to identify patterns of overcharging and failures on the carrier's side to provide the services promised and paid for. Carriers attach fees and price increases for things like expedited services, address changes, and weight or dimension exceptions. But often the software and hardware used to determine these fees and price increases can produce errors. Tools like a small parcel audit help identify those errors. During an audit, there are seven key potential discrepancies:
Duplicate charges
Delivery delays
Lost or damaged shipments
Incorrect charges
Incorrect address corrections
Inaccurate size and weight charges
Contract discount not applied
What Is the Purpose of an Audit?
A shipping audit's purpose is to provide transparency of shipping transactions. What is being charged and why? A shipping audit checklist is one of the tools we use that helps investigate the different charges that exist. With a checklist, we can identify unique, repetitive issues your business is seeing. For example, the nature of your product—its dimensions, weight, packaging—could be causing some erroneous charges you could avoid.
Our checklist includes processes like:
Invoice collection – A paper trail provides a record of transactions
Expense categorization – This helps us know which carriers are involved.
Invoicing benchmarks – What should be happening when you ship?
Data analysis – Review of a large amount of data.
Rate review – Identification of what is going wrong and how you're being overcharged.
If we aren't able to work through a point on this checklist, we can stop and re-evaluate the process. For example, you might not be using more than one carrier, which makes it hard to see if cheaper rates exist. Or you might not keep records of previous invoices, meaning we would need to begin data collection first and foremost.
The purpose of an audit is to collect data and analyze it in a way that leads to meaningful changes in your process and invoicing.
Can You Get Money Back if Shipping Is Late?
The increase in shipping charges for upgraded service is surprising to see on a case-by-case basis. A parcel package shipment changed from Ground to Next Day Air can easily double the shipping cost. So, when you pay for expedited service and it's delivered late, what does carrier accountability look like?
Late shipping comes down to a failure to make good on a promised service. In every other industry, the failure to provide the service or product advertised is grounds for termination of the transaction—you don't pay. Major carriers can argue that some contributors to late shipments are outside of their control—from weather, outside carriers, mechanical problems, or operations failures—but, at the end of the day, they are responsible for their late shipments, and you shouldn't pay the same price.
UPS, FedEx, and most parcel carriers are willing to compromise on prices for late shipments, but actually completing this process can be difficult. That's where a shipping consultant comes in. They can work with carriers to account for individual or habitual late deliveries and negotiate fees. But to do this, they need the data collected through repeat shipment auditing that provides examples and details relating to late deliveries.
How Do You Do a Freight Audit?
The primary difference between freight and parcel shipments comes down to size and weight and how they affect the means of transportation. A simple way to think about this is bulk versus individual packages: freight shipments often include one or more pallets of product all heading to a single destination, whereas parcel shipments include individual packages all going to different destinations.
Freight pallets (or bundles, drums, etc.) will require additional equipment, delivery vehicles, and handling processes. Parcel packages will typically be handled at processing centers and by delivery trucks that are grouped by similar destinations—your neighborhood UPS delivery driver.
The price of freight is determined by factors such as overall weight, pallet spaces needed for a truck/container/aircraft, dimensions, likelihood of damage, destination, and service level. Any significant change in these variables can lead to an increase in shipping charges. Sometimes those changes can mean the difference of tens of thousands of dollars.
A freight audit looks at why certain fees were attributed to a shipment and investigates the validity of those fees. For example, freight audits will often look at how a shipment was weighed, re-weighed, and billed to determine accuracy. Other variables include delays in shipment, increases in price due to destination, and more.
How Do You Do a Parcel Audit?
ShipSigma understands that businesses have a lot to save if they could pull back the curtain and gain transparency about the processes, errors, and potential savings that exist on a daily basis. Our auditing services leverage machine learning, data clustering, and artificial intelligence to give our customers the best advantage when it comes to auditing a carrier's invoices.
So, what occurs with a ShipSigma parcel invoice audit? For starters, our auditing services are continuous, because we know that the more data evaluated, the better our ability will be to save you on shipping costs. Below are some of the key auditing and support processes.
Live auditing - Rate changes, change in service, re-weighing—we conduct a live audit as shipments are being processed to ensure correct charges.
Operational support – Access our support staff when it comes to booking freight loads and conducting daily operations. When you have questions, we have expert support.
A dedicated team – With ShipSigma you are assigned a team of professionals to help with your account, however you need the assistance.
Carrier payment – Our Recon software sends a consolidated invoice every week for the prior week's shipments, and we pay carriers on your behalf so you only send one payment to Recon for all your carrier bills.
Monthly Accrual - We pull a monthly shipment file and accrue for any shipments that you have not been billed for previously.
Further, ShipSigma provides our customers a real-time dashboard so they can monitor the ways they are holding carriers accountable and getting the best, most accurate shipping rates. To see how ShipSigma can help you, try it for free and get a shipping savings guarantee.