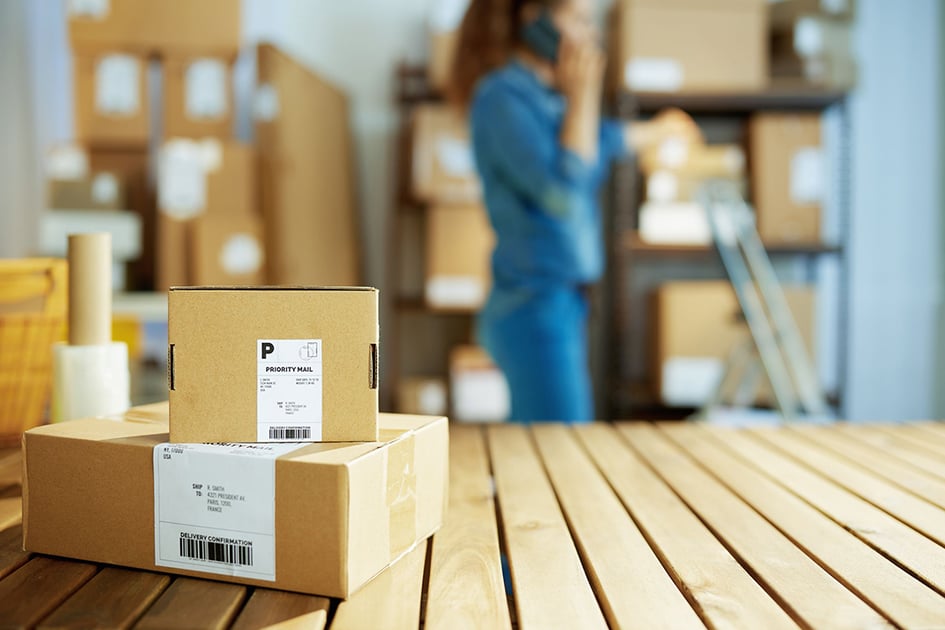 UPS is one of the most ubiquitous shipping companies in the world. So if you're a small business owner or an individual looking for a reliable small parcel shipping service, you've probably heard of UPS Small Parcel.
But what exactly is UPS Small Parcel, and how does it differ from other shipping options?
In this blog, we'll explore the details of UPS Small Parcel to help you decide if it's the right choice for your shipping needs. Let's dive in!
What Is UPS Small Parcel?
UPS Small Parcel is an umbrella term describing the shipping services provided by the United Parcel Service (UPS) that individuals and businesses use to ship small packages.
Standard UPS services allow customers to send packages weighing up to 150 lbs, with dimensions of up to 165 inches in length and girth combined.
UPS has a range of shipping services that can be used to ship small parcels, including UPS Ground, 2nd Day Air, 3 Day Select, and Next Day Air, allowing customers to choose the delivery speed that best fits their needs.
UPS small parcel shipping also provides value-added services such as package tracking, insurance, and signature confirmation to ensure that packages are delivered safely and securely.
Compared to UPS's larger freight shipping options, Small Parcel provides more flexible and cost-effective solutions for smaller shipments.
How UPS Ships Small Parcels
When it comes to shipping small parcels, UPS provides a reliable and efficient service that ensures packages are delivered safely and on time. Here's a detailed breakdown of how UPS ships small parcels:
Step 1: Packaging
The first step is to pack your parcel property. Use a sturdy box and wrap items separately and use cushioning material. Do not use duct tape to seal your parcel. Instead, use plastic or nylon tape at least two inches wide.
If you don't have a good box ready, you can order online or buy one at The UPS Store. Read UPS guidelines on packaging and regulated items to ensure your package is acceptable.
Step 2: Booking a Shipment
You can book your UPS small parcel shipment through the UPS website, mobile app, or by contacting the UPS customer service team. Choose a UPS shipping service that fits your delivery schedule and budget.
Step 3: Processing
Once your small parcel is packaged and booked, it is transported to a UPS hub for processing and dispatch. According to UPS, the company has over 1,000 processing facilities in the United States alone, which are equipped with the latest technology to sort and scan packages efficiently. At the processing center, UPS verifies the weight and dimensions of the package and ensures that it complies with any shipping regulations or restrictions.
Step 4: Transit
After processing, the parcel is placed on an outbound truck along with other parcels going to the same area or the same route.
Step 5: Tracking
Customers can use their tracking numbers to track their parcels in real-time, either through the UPS website or mobile app.
Step 6: Delivery
Once the package reaches its destination city or town, it is delivered to the recipient's address.
How UPS Small Parcel Pricing Is Done
Weight and Size
The weight and dimensions of the parcel are significant factors in determining the cost of shipping. Prices start at 1 pound and go up for every increase in weight by 1 pound. For example, shipping a 1-pound parcel to Zone 2 using UPS Ground costs $10.10. Sending a 2-pound package to the same zone using the same services costs 10.90.
UPS small parcel shipping services come with weight and size limits. For instance, the maximum weight limit for UPS Ground service is 150 lbs, and the maximum package size is 165 inches in length and girth combined. Packages that exceed these limits are charged on a price-per-pound basis and may be slapped with surcharges.
UPS also uses a technique known as dimensional weight pricing to find rates for packages that are large but lightweight.
Distance
Shipping costs increase as the distance from the origin to the destination increases.
Type of Package
The type of package being shipped can also affect UPS Small Parcel pricing. For example, UPS has specific guidelines for shipping hazardous materials, perishable items, and oversized packages. These types of packages may require additional handling or special packaging, which can result in additional fees.
UPS Small Parcel Rates
The table below shows the range of costs for different UPS small parcel delivery services.
| | |
| --- | --- |
| Service | Rates |
| UPS Ground | From $10.10 to $856.00. |
| UPS 2nd Day Air | From $21.64 to $1,139.60. |
| UPS Next Day Air Early | From $65.00 to $1,742.67. |
| UPS Next Day Air | From $35.00 to $1,750.83. |
| UPS Next Day Air Saver | From $31.71 to $1,489.25. |
| UPS 2nd Day Air A.M. | From $23.64 to $1,311.73. |
| UPS 3-Day Select | From $13.66 to $827.47. |
| UPS Ground with Freight Pricing | As of March 2023, the floor charge (lowest possible charge) for this service is $99.50 per shipment. |
UPS Rate Calculator
The UPS Rate Calculator is a tool that allows customers to calculate the cost of shipping a package using various UPS services. The calculator provides a cost estimate after considering the package's weight and dimensions, the shipping origin and destination, declared value, and any value-added services required.
Apart from rates, the UPS Time and Cost tool also provides delivery time estimates. You can balance the shipping costs and delivery time to find the most cost-effective shipping service for you.
How ShipSigma Can Help
If you're not using ShipSigma yet, we assure you that you're paying more than what you need to for shipping. We will help you close the hole in your pocket by analyzing and renegotiating your contract with your carrier. The result of our proven process is lower shipping costs and a simpler shipping workflow for your company.
Send us a message today and you'll be on your way to better rates.