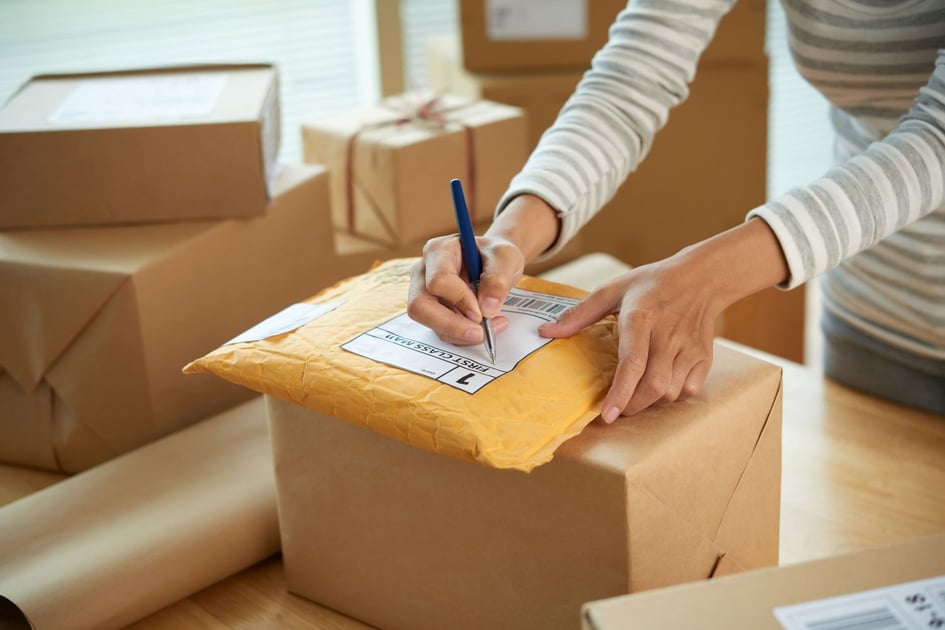 In this article, we'll explore how UPS and FedEx handle address corrections and the associated charges. We'll also share valuable tips to help you avoid incurring these fees, ensuring a smooth and cost-effective small parcel shipping process.
Does UPS Charge for Address Corrections?
In most cases, the shipper will be charged an 'address correction fee' for any wrong address UPS corrects or completes.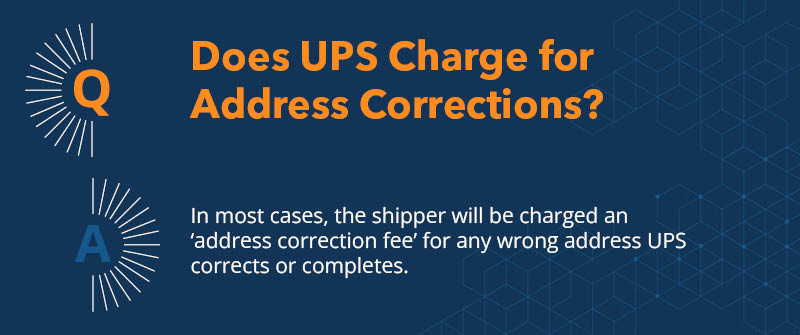 UPS states that if your shipment has an incorrect or incomplete address, they will make reasonable efforts to find the correct or complete address. In such cases, UPS will provide the shipper with the accurate address after securing it. UPS may also fix an incorrect or incomplete address using information obtained from either the sender of a package or the recipient (consignee).
However, an address that was initially validated by UPS might still be considered incorrect or insufficient for completing delivery. In such instances, UPS may make the necessary corrections.
How Much Does UPS Charge for Incorrect Addresses?
We haven't found recent information from UPS regarding address correction surcharges. However, this document, dated May 2017, specifies the following charges for UPS address correction:
Package and UPS Worldwide Express Freight: $13.40

UPS Ground with Freight Pricing: $13.40 per package up to a maximum of $91.00 per shipment.
How Do I Avoid the UPS Address Correction Fee?
You can take various measures to ensure you don't get charged a UPS address correction fee:
Double-check the address - Before shipping any package with UPS, always verify the address provided by the recipient. Ensure it is the correct address, is a complete address, and is properly formatted to minimize the chances of UPS requiring an address correction.
Validate the address using WorldShip -

UPS Worldship

software allows you to validate addresses using the 'validate ship-to address' tool. By prevalidating the address, you can ensure it is correct and deliverable.
Verify recipient's contact information - Whenever possible, try to obtain the recipient's contact information, such as phone number or email address. If UPS encounters an issue with the address, they can contact the recipient directly for clarification, potentially avoiding address correction fees.
Include clear delivery instructions - Provide clear and specific delivery instructions on the package, especially if the address has any complex elements (e.g., suite numbers, apartment numbers). This can help UPS navigate the delivery correctly without requiring an address correction.

Confirm whether the destination address is residential or commercial - UPS charges a

residential delivery fee

if your shipment was not pre-indicated as a residential delivery. To avoid this surcharge, choose "Residential Address" when adding or updating addresses in your shipping system's address book. You can also use UPS' residential/commercial address classification technology on their platforms like UPS.com, UPS CampusShip, and UPS WorldShip.
What Happens If a FedEx Address Is Wrong?
In addition to a FedEx address correction fee, when a FedEx shipment is delivered to the incorrect address, it is called a misdelivery. In such a case, you can initiate a retrieval process as follows:
Contact

customer service

to initiate a retrieval case for the package delivered to the wrong address.

The assigned driver will collect the shipment from the erroneous address.

Whenever feasible, the driver will make another delivery attempt on the same day. If it's impossible to redeliver the package on the same day, they will make another attempt on the following business day.
If you want to correct the delivery address for a shipment that hasn't been delivered yet, follow the steps in the following section.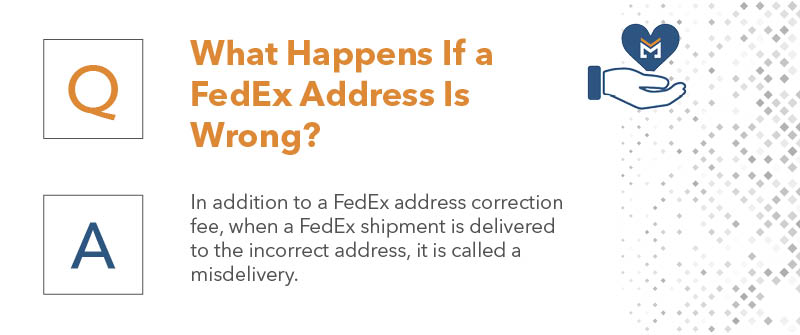 How Do I Correct a Wrong Shipping Address on FedEx?
If you choose to change the wrong address, FedEx can only accept your request if:
There are no restrictions to changing addresses on your account

The new address is not in another country

The shipment hasn't been delivered yet
If you need to make changes or corrections to the delivery address before the package reaches its destination, follow these steps:
Log in to your FedEx account.

Go to the

tracking page

and enter your tracking number or reference number.

Select "Manage Delivery," then choose "Edit Delivery Address."

Press "Continue" to acknowledge that altering the delivery address could impact the delivery date. If you change your mind, you can cancel the request by selecting "Nevermind."

Make the necessary changes to the delivery address and click "Continue."

Enter your contact information, which will be useful if FedEx needs to communicate with you, and then click "Submit." You will be assigned a unique case number for your request.

Click "Done" to complete the process.
If you don't have a new address to change to, you can ask to have the shipment held at a FedEx location for pickup instead of delivery.
Note that, due to safety concerns, you cannot change the delivery address for dangerous goods shipments. These items can be held at a nearby pickup point or returned to the sender. Shipments containing dry ice are the only exception.
What Is the Address Correction Charge for FedEx?
The following charges apply for every wrong address FedEx corrects.
Services

Charge

U.S. Express Package Services

U.S. Ground

Services

International Express Package

Services

International Ground Service

FedEx International Priority Freight

FedEx International Economy Freight

$21 per correction

U.S. Express Freight Services

$110 per correction
ShipSigma Helps You Navigate Address Correction Fees
ShipSigma is hyper-focused on small parcel shipping. We leverage our exclusive cost modeling software and time-tested contract negotiation process to tailor the most advantageous shipping contracts for your business.
Contact us now to discover the potential savings you can unlock on your small parcel shipping spend.