What Is the General Rate Increase (GRI) In Shipping for 2024?
September 15, 2023 •Joe Jordan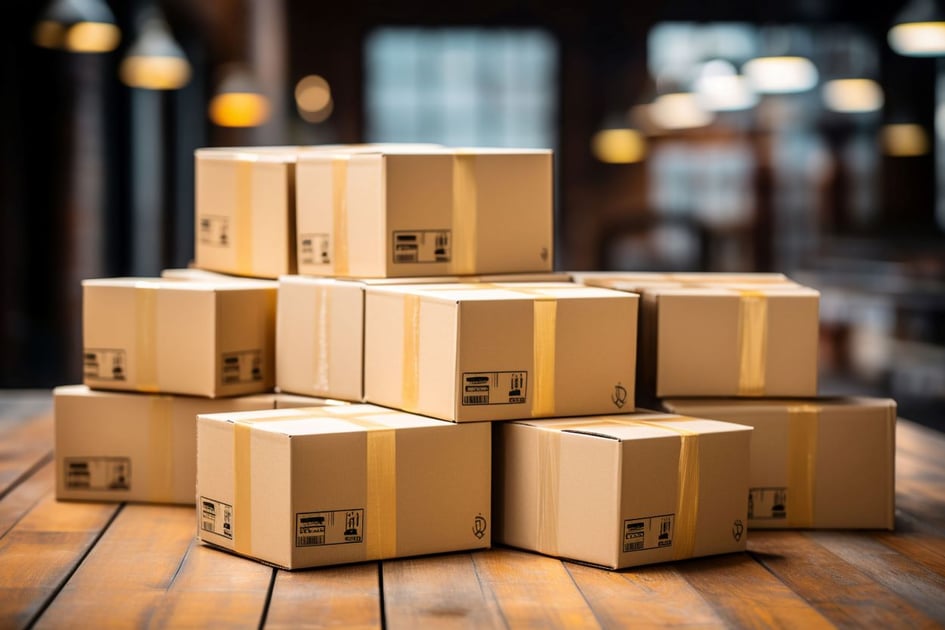 As a shipper, you know that even small changes in shipping rates can have significant effects on your bottom line. That's why it is important to stay informed about various factors that can impact your shipping costs. One such factor is the General Rate Increase (GRI).

In this post, we'll explore GRI in shipping to understand its significance and how to navigate it for cost-effective cargo transportation.
Have Shipping Rates Increased?
Parcel Shipping Rates
To determine whether and how much shipping rates have increased in the last few years, let's compare UPS and FedEx rates for the years 2021, 2022, 2023, and 2024. For this illustration, we will use the rates of shipping a 20-pound package to the nearest zone.
2021 Vs. 2022 Vs. 2023 Vs. 2024 Parcel Shipping Rate Comparison
UPS Rate Increase History
| | | | | |
| --- | --- | --- | --- | --- |
| Service | 2021 | 2022 | 2023 | 2024 |
| UPS Next Day Air Early | $95.31 | $100.20 | $106.16 | TBA |
| UPS Next Day Air | $65.31 | $70.20 | $76.16 | TBA |
| UPS Next Day Air Saver | $62.14 | $66.80 | $72.48 | TBA |
| UPS 2nd Day Air A.M. | $44.73 | $47.64 | $ 51.40 | TBA |
| UPS 2nd Day Air | $42.24 | $44.30 | $47.62 | TBA |
| UPS 3 Day Select | $29.10 | $31.98 | $34.38 | TBA |
| UPS Ground | $14.29 | $15.14 | $ 16.10 | TBA |
FedEx Rate Increase History
| | | | | |
| --- | --- | --- | --- | --- |
| Service | 2021 | 2022 | 2023 | 2024 |
| FedEx First Overnight | $95.79 | $100.64 | $106.55 | $112.51 |
| FedEx Priority Overnight | $64.79 | $69.64 | $75.55 | $81.51 |
| FedEx Standard Overnight | $61.52 | $66.13 | $71.75 | $77.13 |
| FedEx 2Day A.M. | $44.27 | $48.47 | $52.29 | $55.89 |
| FedEx 2Day | $42.24 | $44.30 | $47.62 | 50.23 |
| FedEx Express Saver | $37.43 | $41.13 | $44.21 | $46.19 |
| FedEx Ground and FedEx Home Delivery | $14.32 | $15.25 | $16.21 | $17.13 |
From the data in the tables above, we can tell that shipping rates have steadily increased year over year due to GRIs being applied by FedEx, UPS, and other carriers.
Freight Shipping Rates
Between 2019 and 2023, there was a significant fluctuation in freight shipping rates. This was mainly driven by the COVID-19 pandemic, which led to a surge in online consumer spending, causing logistical networks of shipping carriers to become overwhelmed not only in 2020 but for several years afterward. This increased demand for shipping services resulted in higher shipping rates, with rates reaching their peak in September 2021, as reported by Statista data.
However, as of mid-2023, the global shipping rate index has largely returned to levels similar to those seen before the pandemic:
In September 2021, the global freight rate index stood at 10,400 U.S. dollars.

In June 2023, the index had decreased significantly to 1,500 U.S. dollars.
This indicates a notable decrease in shipping rates from their peak during the pandemic, bringing them back in line with the pre-pandemic levels.
What Does GRI Mean in Shipping?
GRI meaning in shipping: GRI is an acronym for the term General Rate Increase. Sometimes, it might be referred to as an annual percentage increase. It represents an adjustment in shipping rates, typically implemented by carriers on a yearly basis. Note, GRI is different from things like fuel surcharges, and peak season operating costs. GRI accounts for changes in the supply chain, raw materials, and other factors that can vary significantly, impacting overall shipping costs, and causing carriers to raise prices.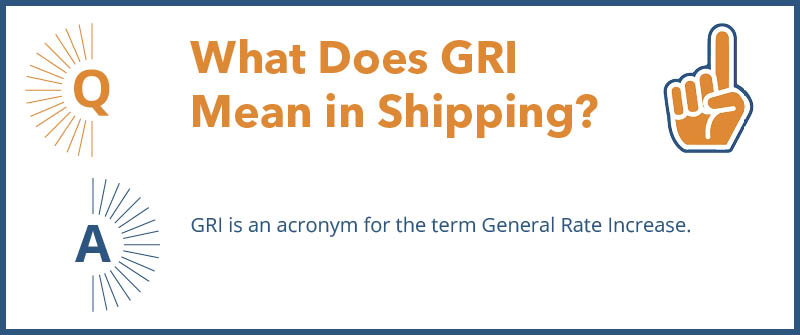 What Is a General Rate Increase? Is It the Same as Rising Costs?
A General Rate Increase (GRI) is a scheduled and price hike implemented by shipping carriers to adjust freight rates in response to various industry challenges like rising operational costs or market fluctuations.
Shipping carriers apply GRI fees in response to market changes, such as the escalation of fuel costs or the need to maintain profitability within a fiercely competitive market. Transparency is key in this process; carriers typically announce GRIs well in advance, providing customers with a window of opportunity to prepare for impending rate increases.
General rate increases offer carriers a means to adapt swiftly to the ever-changing market conditions. However, the impact of GRIs isn't limited to carriers alone; customers who rely on shipping services can experience financial implications. Therefore, effective negotiation and proactive planning on the shipper's part are crucial to help avoid losses or very high shipping costs.
Sometimes, GRIs are not applied across the board. They can be implemented on specific shipping services, trade routes, or geographic regions. This diversity in application results in fluctuations in the areas and sectors where the rate increases have an impact.
What Is the Annual General Rate Increase 2024?
Both UPS and FedEx have announced general rate increases to be effected in late 2023 and early 2024. These are discussed below
What Is the 2024 General Rate Increase (GRI) in Shipping for UPS?
UPS recently announced the following information on the 2024 UPS Daily Rates General Rate Increase:
Starting December 26, 2023, UPS Daily Rates for services will increase. UPS states the reason for these rate adjustments is to aid ongoing capacity and capability enhancements.
Below is an overview of the expected changes outlined in the UPS 2023 rate increase announcement:
1. A net 5.9% average increase to UPS® Ground, UPS Air, and International services rates.

2. There will be changes to the list of ZIP Codes to which Area Surcharges apply.
3. The list of ZIP Codes aligned to certain zones will change
These changes are bound to affect the shipper's budgets. How these alterations will affect your shipping expenses will depend on your specific shipping attributes and the terms outlined in your UPS contract.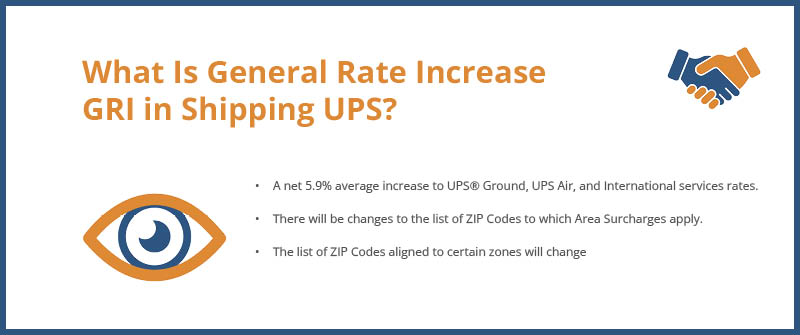 What Is 2024 General Rate Increase (GRI) in Shipping for FedEx?
On August 29, 2023, FedEx announced changes in shipping rates for FedEx Express, FedEx Ground, and FedEx Freight, to be effected on January 1, 2024.

FedEx's general rate increase 2023 details are as follows:
FedEx Ground and FedEx Express Rate Changes
FedEx Express shipping rates will increase by an average of 5.9% for U.S. domestic, U.S. export, and U.S. import services.

FedEx Ground and FedEx Home Delivery shipping rates will increase by an average of 5.9%. FedEx Ground Economy shipping rates will also increase.

Apart from the base rates, the surcharges & fees for FedEx Express & FedEx Ground will also have changes. View the details

here

.

Effective January 1, 2024, FedEx will be increasing customs clearance service fees on imports.

Effective January 15, 2024, FedEx will assess the

Additional Handling Surcharge and Oversize Charge

per eligible package for international multi-piece shipments instead of per shipment.
Check out the 2024 FedEx Express and FedEx Ground rates (PDF) for full details.
FedEx Freight Rate Changes
Please check your FedEx shipping agreement to determine the net impact of these changes on your shipping costs.
What Is GRI in LTL?
First Of All, What Is LTL?
LTL stands for Less Than Truckload, a cost-effective freight shipping method that involves the consolidation of multiple smaller shipments from different shippers into a single truck for transportation.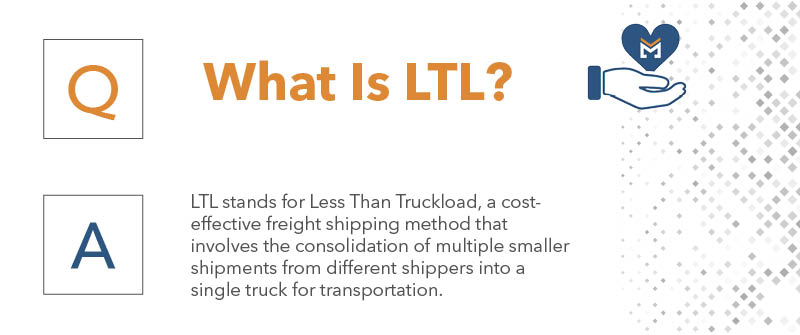 This approach allows businesses to efficiently move goods that don't require the entire capacity of a standard truck, optimizing resource utilization and reducing shipping expenses.
What Is The GRI In LTL for 2023?
Less-than-truckload (LTL) carriers can use General Rate Increases (GRIs) to adjust their base rates to accommodate challenges in their operations. These price adjustments are made according to general freight tariff codes and may fluctuate depending on factors such as shipping routes and weight categories.
The GRI percentage (LTL general rate increase 2023) announced by carriers represents the anticipated average increase that these rate adjustments will have across all affected accounts.
ShipSigma Can Lower Your Shipping Costs
At ShipSigma, we leverage over $1 billion of live market data, as well as 150+ years of collective shipping industry experience, to find the best cost-saving opportunities for your company.
To date, we have helped over 300 customers to achieve an average of 25% in cost savings. That's a significant impact the bottom line. Ready to get started? Contact us today to discuss your shipping strategy and get your total cost down.