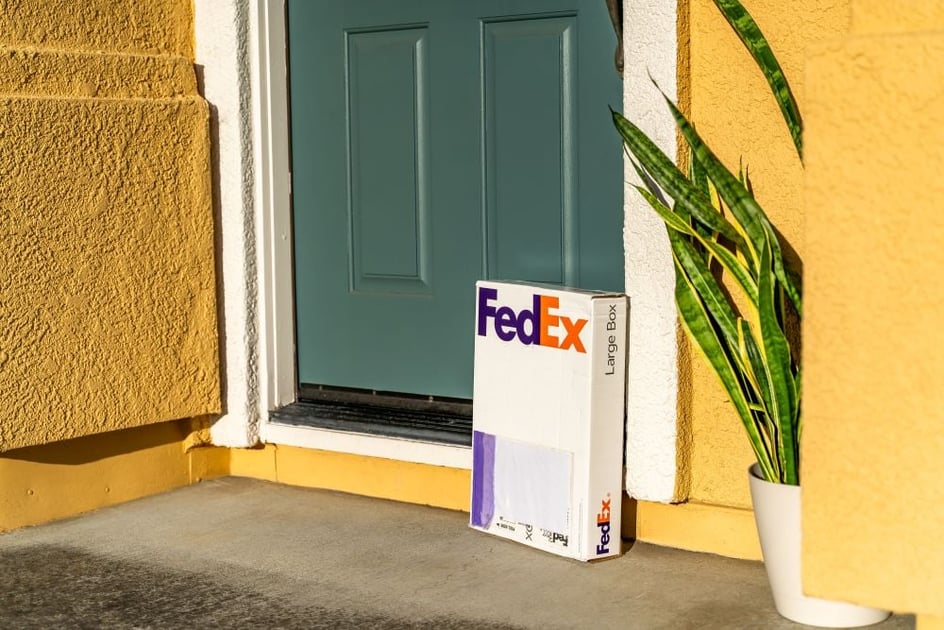 In this blog, we will explore the concept of a FedEx shipment exception, (sometimes referred to as FedEx delivery exceptions). We'll delve into the definition and implications of shipment exceptions, shedding light on what they mean for your FedEx deliveries. Stay tuned to gain a clear understanding of this important aspect of shipping logistics.
What Is a FedEx Delivery Exception?
FedEx shipment exceptions refer to an unforeseen event or condition that disrupts the normal delivery process of your FedEx package. It may or may not affect the delivery date, depending on how long it takes to resolve.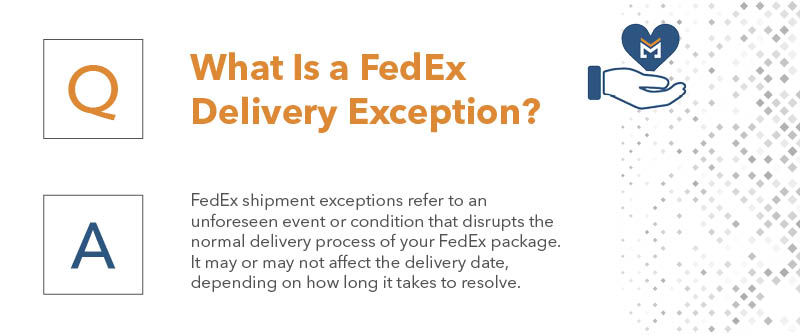 Some causes of shipping exceptions include unexpected events, bad weather, incorrect addresses, customs clearance issues, or package damage. Shipment exceptions are flagged in the tracking system to inform senders and recipients of the issue.
To avoid exceptions and minimize potential delays, take precautions like the following:
Consider public holidays, strikes, and weather conditions when planning your shipment.

Ensure that someone is available to receive the package upon delivery.

Verify that all your shipping documents are complete and in order.
However, note that certain exceptions, such as customs delays, may be beyond your control, and in such cases, the best course of action is to be patient and wait for the situation to be resolved.
What Does FedEx Mean by Shipment Exception?
When FedEx mentions a shipment exception, it signifies an irregularity or disruption in the package's delivery process.
FedEx uses "status exception codes" to indicate the cause of an exception and reflect the current status of your shipment. There are up to 10 different codes, including the following:
Pickup Exception - Occurs when a package is collected from a location other than the one specified by the shipper, such as a FedEx Drop Box, or when the courier makes multiple pickups at the same location.

Prerouted Meter Package - The package has been processed using the automated shipping software of the customer.

Release Signature on File - Indicates that either the sender or recipient has chosen to authorize the delivery of a package using a pre-existing release signature that is already on record with FedEx.

Recipient Not In/Business Closed - FedEx attempted delivery for the package, but nobody was present to receive it.

Transfer of Custodial Control - The package was internally transferred between FedEx personnel. This does not necessarily mean the shipment will be delayed.

Commitment Not Due/Not Attempted - FedEx has the package but may not make a delivery attempt until the designated commitment time.

PMX - The shipment has been brought back to the delivery station for the evening as it was undeliverable due to either an incorrect address or the recipient being unavailable. In most instances, another delivery attempt will be made the following day.

Regulatory Agency Clearance Delay - The shipment is experiencing a delay as it undergoes processing by the Customs Authority of the destination country.

Received From/Released to an ODA Agent - The package was handed over to a designated agent responsible for delivering to further-off locations outside the primary delivery area.

Commodity/Dutiable Received at Port of Entry - Your shipment containing a commodity/dutiable item has been received at the port of entry in the destination country. This does not necessarily indicate a delayed shipment.
What Do I Do About A FedEx Shipment Exception?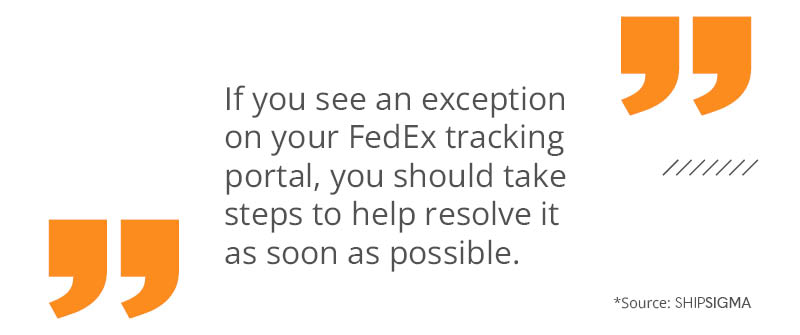 If you see an exception on your FedEx tracking portal, you should take steps to help resolve it as soon as possible. Here's a list of steps you can take:
Find out the cause - Use your tracking code to check the status of your shipment. Review the details of the shipment exception to know the condition causing the delay. To receive ongoing status updates for your package, click GET STATUS UPDATES after you enter and submit your tracking number on the

tracking page

. You can also use

FedEx Delivery Manager

to access the most up-to-date information regarding your package.

Contact FedEx - If additional information or action is required, FedEx may attempt to contact you or another party most likely able to provide the information or take action. You can also contact them to provide information or inquire about the specific shipment exception.

Request a delivery change - If you need to change the delivery address or schedule, contact FedEx and request the necessary modifications. They can accommodate your request depending on the status and location of the package.

Resolve customs issue - If the exception concerns customs clearance, work closely with FedEx and provide any necessary documentation or information to facilitate the clearance process. This may involve coordinating with the sender or recipient of the package.

File a claim if needed - If your package is damaged, lost, or stolen due to a shipment exception, file a claim with FedEx. They have procedures and limited coverage to address such situations and compensate for loss or damage.

Be patient and monitor updates - In some cases, shipment exceptions may require time to be resolved. Stay patient and continue monitoring the tracking status for any updates or changes. Learn how you can

set up tracking alerts and delivery notifications
.
What Is the FedEx Shipment Exception for a Damaged Package?
We haven't seen an exception code specifically for damaged packages. However, if FedEx identifies a damaged package, they will likely contact you. Alternatively, you may receive the package and find the contents damaged.
When such an exception occurs, FedEx typically initiates an investigation, evaluates the extent of the damage, and determines the appropriate course of action. This may involve contacting the sender or recipient for further information, arranging for inspections, or processing a claim for reimbursement or compensation.
How Long Does a FedEx Shipment Exception Last?
The duration of a FedEx shipment exception varies depending on the nature of the issue, its complexity, and the actions required to resolve it.
A shipment exception FedEx can fix quickly will only result in a short delay in the delivery of the package. For example, suppose there was a missed delivery attempt due to the recipient being unavailable. In that case, the exception might be resolved within a day or two when the courier attempts delivery again.
On the other hand, certain exceptions, such as customs delays or severe weather disruptions, can result in longer delays. These situations may require additional processing time or alternative transportation arrangements, which can extend the exception period.
The best approach is to monitor the tracking updates provided by FedEx while keeping in touch with their customer support team.
ShipSigma Can Help With Shipping Exceptions
ShipSigma has saved customers over $100 million in small parcel shipping costs. If you're a shipper seeking to optimize your rates and reduce your costs, contact us today and let us help you maximize your shipping budget.