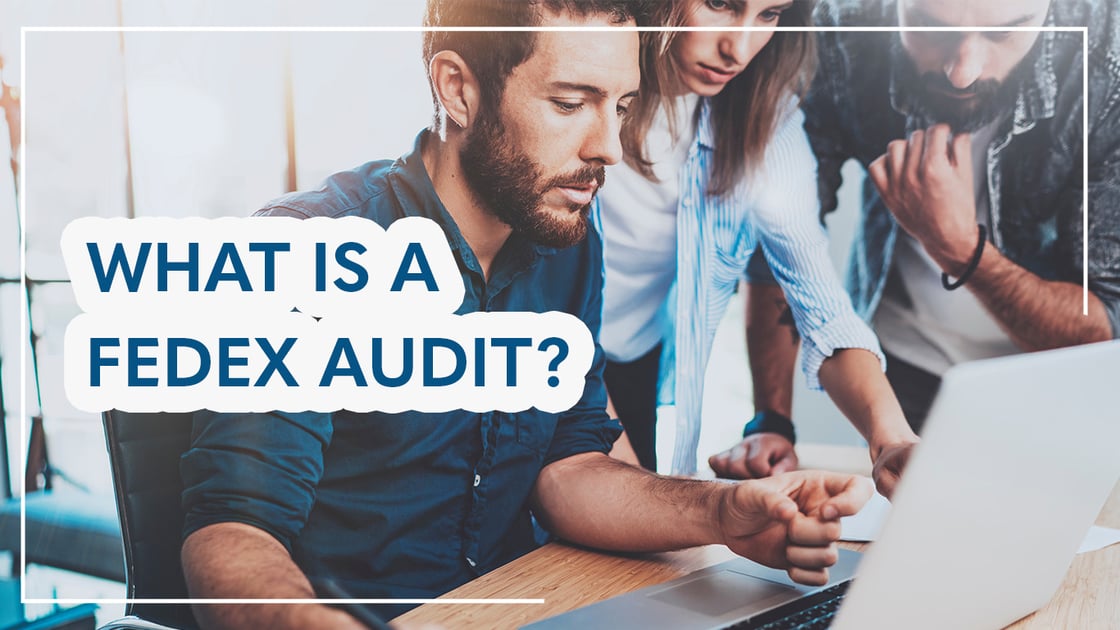 As a business that relies heavily on small parcel shipping, your carrier contract is essential to your bottom line. As you probably already know, your carrier options are mostly limited to the duopoly of UPS and FedEx. This duopoly ensures that despite the relational equity, years of experience, and time and effort you leverage toward a contract negotiation, the carriers still have the upper hand. Even if they say you are getting the "best deal," you can be sure they are telling that to all of their customers. At ShipSigma, we are here to help you get your power, and money, back.
A parcel invoice audit is one of the best ways to save money and hold your carrier accountable. Performing an audit or using audit services can help you identify areas where your carrier came up short, like late deliveries, FedEx surcharges, damaged parcels, etc. In this blog, we look at FedEx small parcel audits in more depth, and suggest ways you can cut your shipping costs.
What is an Audit, Simple Definition?
In simple terms, an audit is an official inspection of an organization's accounts, invoices, transactions, and billing to identify and remedy any inconsistencies. Conducting an audit of your own accounts, also known as an internal audit, is a great way to understand exactly what you are paying for and what quality of service you are receiving. We can break that down even more by looking at the purpose of an audit.
What Is the Purpose of an Audit?
The ultimate goal of an audit is to save you money. There are a couple of ways an audit can do that, but it all boils down to understanding exactly what you are being charged for in every single transaction. Once you know that, you can identify where you were mischarged, or where the carrier failed to uphold their end of the agreement. Common examples include:
Deliveries that were

Late

Lost

Damaged

Sent to the wrong address





Charges that were

Unnecessarily increased

Based on inaccurate weight or measurements

Improper rates

Duplicated
After you identify these discrepancies, you can bring them to the carrier's attention. In most cases, the carrier will offer you a refund for lapses in service. The only catch is you have to ask for one. Still, with the data from your audit, you might end up saving thousands of dollars just from carrier refunds alone.
Beyond just seeking refunds, audits also help you understand if the rate your carrier is charging is fair or overpriced. With the insights and data from a parcel audit combined with your strong negotiating skills, you can sit down at the negotiations table and work out a deal that's actually fair. You no longer have to rely on being told you have the "best deal," with an audit, you can know you do.
Now that we have covered the basic value of auditing, let's look at the three types of audits you can use.
What Are the 3 Types of Audits?
The three types of audits you could use are: manual audits, parcel audit software, and parcel audit services. Each one comes with its own set of advantages and disadvantages. Let's take a quick look at the definition and pros and cons of each one.
Manual
Manual audits are exactly what they sound like… an employee going through all of the data manually.
Pros:
Can reveal areas for improvement and potential savings
Possibly cheaper up front than other options (although, this is not always the case considering labor costs)
Cons:
Prone to human error
Can quickly become expensive due to labor requirements
Not very efficient
Requires industry know-how and manual effort to turn the data into outcomes
Parcel Audit Software
Parcel audit software automates the auditing process. The software automatically looks at all of your invoices, sorts them, and highlights areas of interest or concern.
Pros:
Easy, efficient, and effective
Low chance of error
Provides easy and comprehensive understanding of all your data
Cons:
More expensive upfront (potentially) than manual
Requires industry know-how and manual effort to turn the data into outcomes
Parcel Audit Services
Parcel audit services essentially allow you to outsource your audit needs. You consult a team of experts and let them do the work for you.
Pros:
Access to their auditing software
Use of their industry know-how and effort
Automated and easy "white-glove" process allows you to save money without lifting a finger
Accurate data
Guidance and advice from experts
Cons:
Potentially more expensive upfront than manual audits or software alone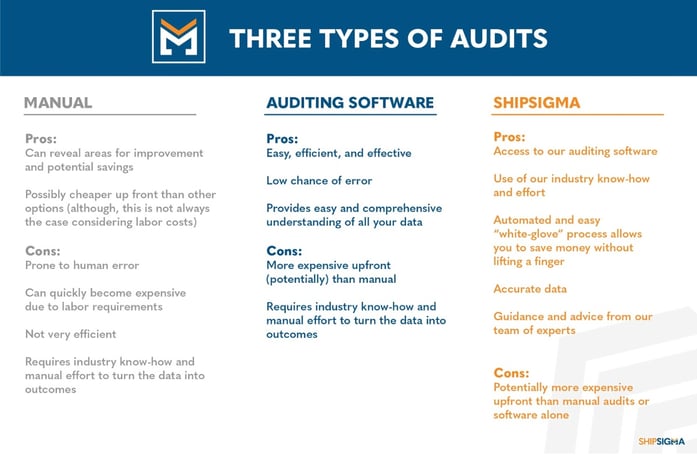 ShipSigma…Parcel Audit Services
At ShipSigma, we understand the shipping industry inside and out. We know that you have years of experience negotiating deals with these carriers. However, you can negotiate an even better deal using the data we uncover throughout the parcel invoice audit process. Instead of guessing what a fair rate is, we can show you, down to the penny.
Auditing data is sensitive information, which means we have to earn your trust. Not only will you have access to our team of experts, you also will get the full advantage of our cutting-edge auditing software. We provide you with:
Fully automated auditing
Reduced shipping costs on every item
Automatic claim submission
Contract negotiation advice
Instant savings
In fact, if we don't save you money, you won't pay a thing. So, if you're ready to cut your shipping costs by up to 25%, contact us today.