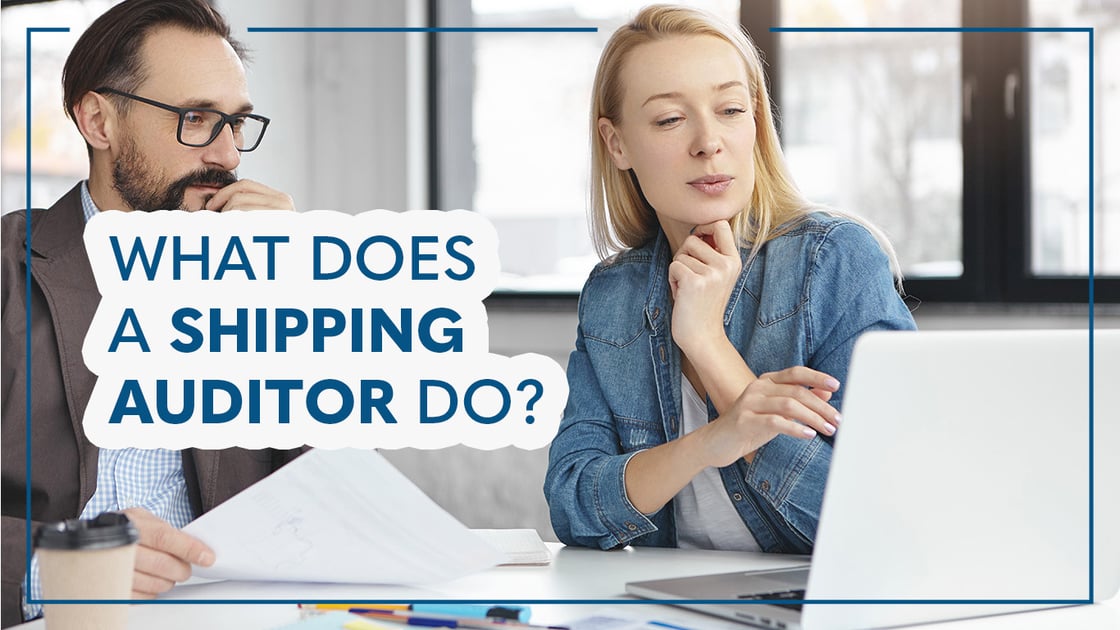 Freight and parcel audit services have come a long way since the old days, when conducting a parcel invoice audit meant a tedious and painstaking manual process. Now audit processes have been updated, with an entire industry of professional auditors and innovative shipping audit software programs that apply data analysis to identify savings and reduce costs.
In this post, we're going to take a closer look at how a shipping auditor or auditing process works, so you can better understand which approach might work best for your business.
What Is a Shipping Audit?
In simple terms, a shipping audit is a process that takes a close look at freight or parcel shipping invoices in order to ensure that the details are all accurate and the shipper is being fairly charged. It considers not only the shipping invoice's various charges and surcharges, but also accounts for circumstances that might qualify for refunded charges—like late deliveries or other service failure issues.
One of the most important outcomes of a shipping audit is the possibility of cost savings through freight reconciliation.
What Is Freight Reconciliation?
Freight reconciliation refers to the process of making sure shipping invoices are accurate and looking for any discrepancies that might entitle the shipping company to a refund.
How Does Freight Auditing Work?
When it comes to freight or parcel auditing, there are three different approaches to consider, each with its own advantages and disadvantages. You can conduct audits manually, invest in auditing software, or partner with a third party—like ShipSigma—for parcel auditing and related services.
Conducting Manual Audits
Shippers can develop their own internal freight audit process, and conduct audits manually. In a manual auditing process, an in-house shipping auditor pores over invoices, reviews the outcomes and surcharges, and looks for any errors or adjustments. Then, the shipping auditor can file a claim with the carrier to pursue reconciliation.
While this approach might seem like a cost-saving measure, in the long run you have to consider the different types of costs involved—not just paying the auditor's wages or fees, but also the amount of time the process can take. You also have to consider the real possibility of human error, which can cause additional confusion.
Using Auditing Software
When conducting manual audits isn't a feasible solution, shipping companies can make use of invoice auditing software. These programs are effective in reducing the extensive, tedious process of manual auditing—while also ensuring greater accuracy. Leveraging auditing software also creates a straightforward, repeatable workflow that keeps the process simple and easy to understand.
While freight audit software typically comes with an up-front cost or recurring subscription, the amount of time these programs save can mean significant cost reduction over time. You'll also need to consider the training implication, the time it will take to get your team (or auditor) up to speed on how to use it.
Partnering with a Third-Party Shipping Auditor
Finally, there is the option to partner with a third-party shipping insights and carrier contract negotiation company (like ShipSigma). Working with a shipping auditor takes the guesswork out of the process, meaning you don't have to hire, onboard, and train a new employee to serve in the role, and the partner company can advise as to what type of software or technology makes the most sense for your organization.
The benefits of working with a partner like ShipSigma include time savings, more accurate reporting, and larger refunds—as well as the experience and industry insights they bring to the table.
What Should an Audit Checklist Include?
Regardless of which approach you take, a basic shipping audit process will follow the same basic framework. As a starting point, and to prepare to work with an auditor or partner should you choose that route, your shipping audit checklist should include:
Collecting invoices
Grouping invoices by carrier (i.e. UPS and FedEx)
Applying data analysis to establish and gauge benchmarks
Searching invoices for any overcharges or errors
Reviewing current carrier rates and surcharges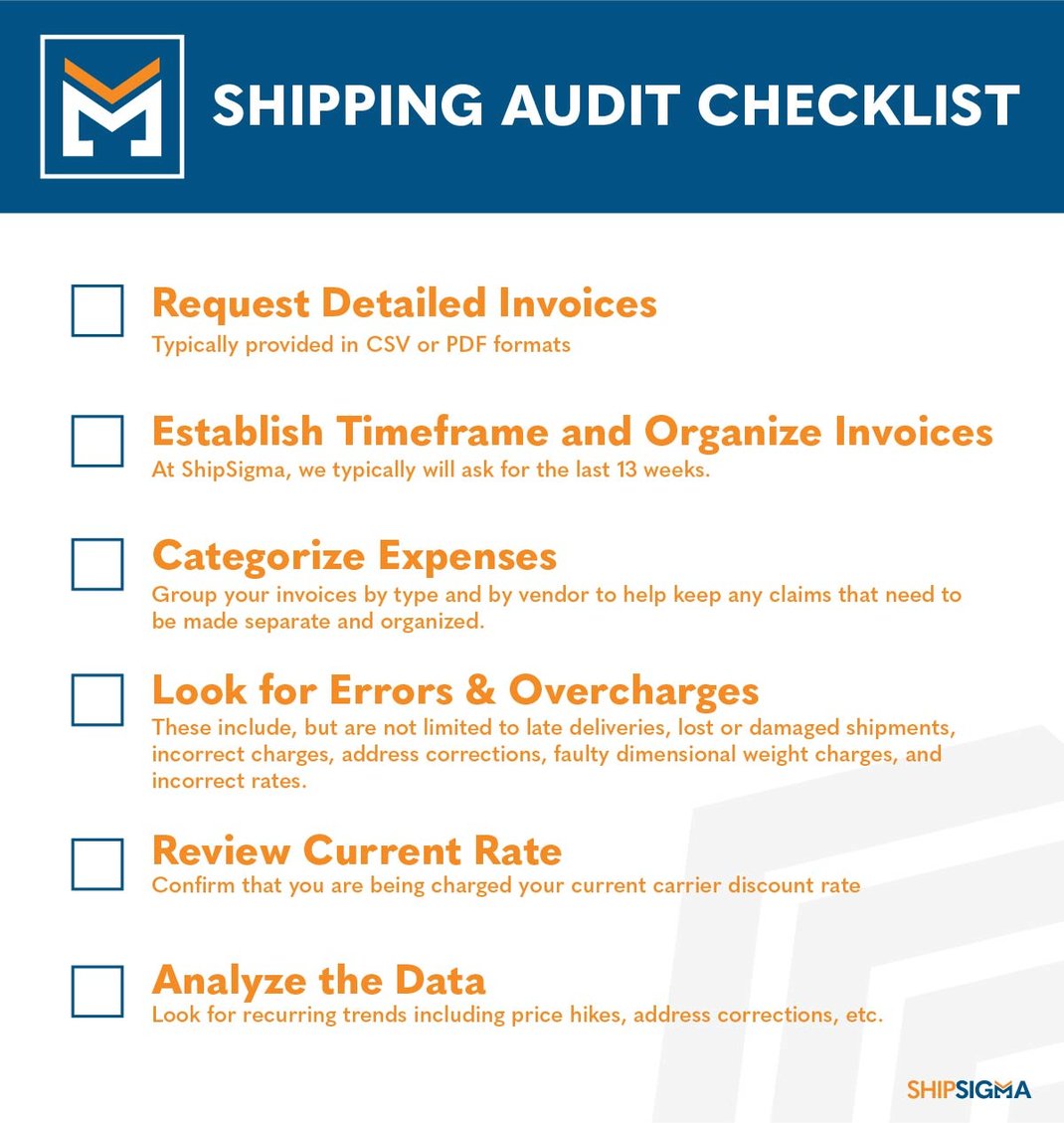 Throughout the shipping audit process, data can be further analyzed in order to develop new or improved processes for future cost-savings or efficiency. For example, understanding factors like capacity utilization, turnaround time, and price hikes or unfamiliar surcharges, shippers can gain additional insight to leverage in future negotiations and decision-making.
ShipSigma: Invoice Audits, Carrier Negotiations, and More
With ShipSigma, you've got an industry partner on your side for comprehensive shipping auditing and management. Our three key services are parcel invoice auditing, carrier contract negotiation, and shipping insights and analytics.
Parcel Invoice Audits: Let us conduct your shipping audits, and we'll help cut your parcel shipping costs with instant savings.
Carrier Contract Negotiation: We leverage the power of AI and an extensive data network, enabling us to guarantee that you'll save when it's time to negotiate.
Shipping Insights and Analytics: Knowledge is power. Our industry-leading platform provides in-depth insights and analytics to bring transparency and context to shipping data in order to provide actionable insights for efficiency and cost savings.
If you're ready to cut your high-volume shopping costs by 25%, then reach out today to learn more about the cost savings we can uncover for you.