What are Accessorial Fees in Shipping?
September 7, 2023 •Joe Jordan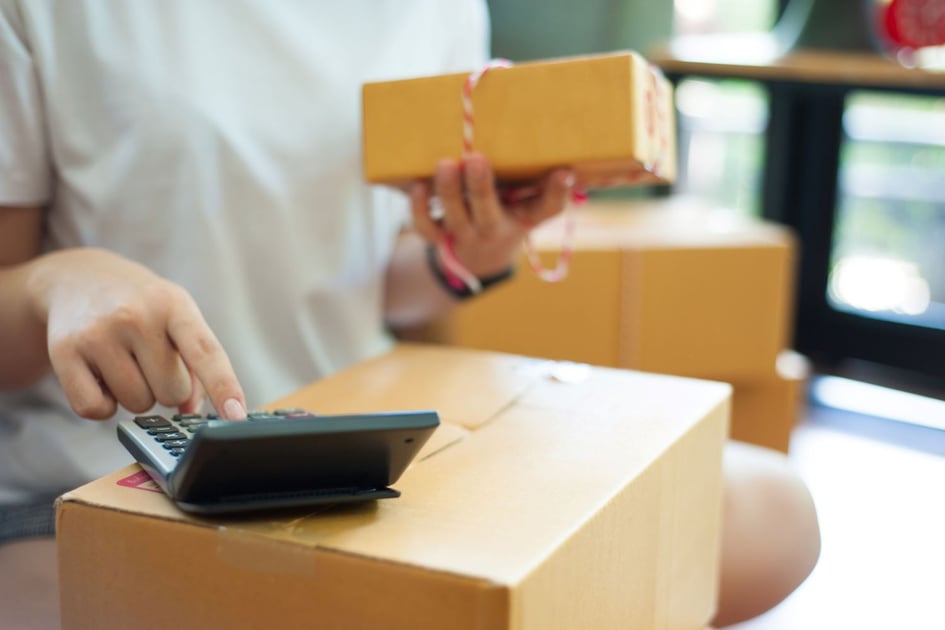 In a business, shipping costs are one of the expenses that can pile up quickly. Therefore, you must be aware of all the charges and fees that your carrier may impose on your shipments.

In this blog, we explore a category of shipping charges known as accessorial fees. We'll cover their definition, who is responsible for payment, and provide a few illustrative examples.
What Is The Definition Of Accessorial Charges In Shipping?
Accessorial services refer to the supplementary services that a carrier provides when shipping your goods, which go beyond the standard freight transportation.

These services play a crucial role in accommodating a shipper's requirements and addressing unforeseen challenges that may emerge during transit. For example, if you plan to ship a package that is over the carrier's size limits, you'll need to pay an 'oversized/overweight package accessorial fee to get it accepted and processed.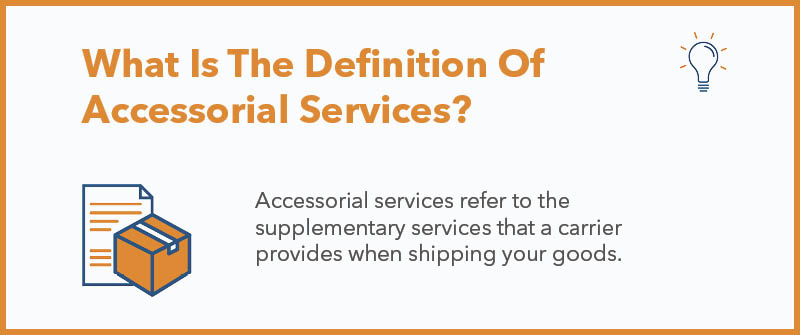 What Are Accessorial Fees In Shipping?
Accessorial fees definition: Accessorial fees are the additional fees a carrier applies to cover the costs of providing specialized services beyond standard shipping, such as liftgate assistance, inside delivery, or expedited services. These charges vary depending on the specific accessorial service requested and the carrier you use, among other factors.
The term accessorial charges stems from the word accessorial, meaning 'contributing to or aiding an activity or process.' The process, in this case, is the shipping of goods.
For instance, below is a table showing a few of FedEx's accessorial charges examples:
Service

Rates

Close of Business Delivery

$113 per shipment

Detention

With power: $69 per 28-foot trailer each 15 minutes ($82 minimum charge)




Without power: $230 per 28-foot trailer each 24 hours

Hazardous Materials or Substances

$47 per shipment

Redelivery

$17.72 per hundredweight

$177 minimum charge

$1,855 maximum charge

Liftgate Service

$11.76 per hundredweight

$174 minimum charge

$573 maximum charge

Storage

$5.07 per hundredweight per each 24 hours

$50 minimum charge per shipment per each 24 hours, but not less than $177 per shipment

Service Provided During Non-Business Time

$250 per person per hour or fraction thereof

$507 minimum charge per person for non-business hours

$939 minimum charge per person for non-business days
What Is An Example Of An Accessorial Shipping Charge?
One example of accessorial charges is 'Inside Delivery'. This is a service offered by many carriers where the delivery personnel not only bring the package to the recipient's location but also go a step further by taking the package inside the premises.
Inside delivery is particularly useful when the recipient requires assistance with moving heavy items or when the shipment is very valuable or sensitive and needs to be placed in a protected area.
The specialized handling and coordination involved in inside delivery means the carrier has to add an accessorial charge to your shipping fee.
Real-World Scenario of Accessorial Fees in Logistics
Imagine an art gallery that specializes in showcasing large and delicate sculptures. The gallery is preparing for a high-profile exhibition featuring a collection of valuable sculptures from various artists around the world.
In such a case, the art gallery would be well advised to include the Inside Delivery service for their shipment. This choice ensures that their precious items are not only secure but also properly stored at the delivery address. Moreover, to minimize loss or damage during transit, they will probably need another accessorial service known as Special Handling. Special Handling involves techniques like custom crating, temperature control, and gentle maneuvering during transport and delivery, all of which are vital for preserving the integrity and condition of the sculptures.
Example Rates of Freight Accessorial Fees Services
To give you an idea of the cost of accessorials, freight carrier FedEx charges the following rates for Inside Pickup and Delivery:
$15.93 per hundredweight

$168 minimum charge

$1,684 maximum charge
UPS rates for Additional (Special) Handling: $16.50 to $34.50.
What Are The Accessorial Charges In Freight?
There are many kinds of accessorial charges in freight shipping, ranging from services that ensure safe delivery and handling, such as lift gate assistance, to those that expedite shipments or accommodate unique delivery requirements like A.M. delivery.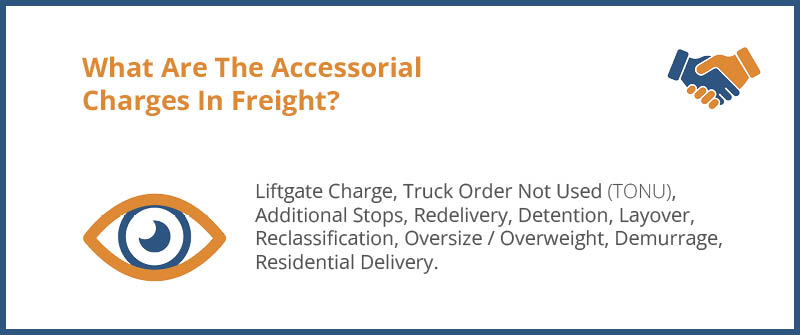 Below is a list of each common freight accessorial fee you might see on a freight invoice or freight bill:
Liftgate Charge: The carrier applies this fee when a hydraulic liftgate is needed to load or unload items from a truck at locations that don't have a loading dock. It is beneficial for delicate, bulky items.
Truck Order Not Used (TONU): TONU fees are incurred when a shipper arranges for truck services but then cancels after the carrier has already sent out the truck. This fee is meant to reimburse carriers for the resources they invested in preparing for the now-canceled shipment.
Additional Stops: When a shipment needs to make multiple stops for delivery or pickup along its designated route, carriers may apply a charge to account for the extra time, mileage, and coordination required for the additional destinations.
Redelivery: The redelivery fee arises when a shipment cannot be successfully delivered during the initial attempt due to reasons like recipient unavailability or an inaccessible delivery point. This charge covers the cost of making subsequent delivery attempts.
Detention: A detention charge is applied when a carrier's truck is held at a location beyond a predetermined period, often due to delays in loading or unloading. The fee compensates the driver for the delays in their schedule and potential lost opportunities.
Layover: Layover is one of the accessorial services meaning a situation where the truck stays at a pick-up/drop-off location overnight.
Reclassification: When the freight's actual characteristics (size, weight, etc.) differ from the initially declared classification, carriers may charge you a fee for reclassifying the shipment.
Oversize / Overweight - This surcharge is levied for handling freight that exceeds standard size or weight limits. It covers the additional effort, equipment, and resources needed to manage these larger or heavier shipments.
Demurrage: Demurrage fees are incurred when a shipment remains on the ship longer than the allotted time. These charges encourage shippers to load or unload their goods quickly.
Residential Delivery: Residential areas are sometimes harder to access for delivery trucks. For this reason, carriers may charge a residential delivery fee, one of the accessorial charges in trucking.
Inside Delivery: With inside delivery, delivery personnel go beyond standard drop-off procedures by bringing packages into the recipient's premises.
What Are LTL Accessorials?
Less Than Truckload (LTL) is a kind of freight shipment whereby multiple smaller shipments from different shippers are combined into a single truckload, allowing shippers to share transportation costs.
Therefore, LTL accessorials are any additional services that can be added to an LTL shipment to accommodate a shipper's specific needs.
An example of an accessorial service that is beneficial for LTL shipments is 'Notification Prior to Delivery'. With this service, the carrier informs the recipient beforehand about the upcoming delivery so they can prepare and be ready to receive the shipment.
Check out FedEx's freight surcharge quicksheet to view more examples of LTL accessorials.
Who Pays Accessorial Fees?
The responsibility for payment depends on the nature of the service and the agreement between the parties involved. In most cases, it is the shipper who pays for accessorial fees. However, if the recipient requests a service, they will most likely be responsible for paying accessorial charges.
For instance, if an e-commerce company is sending a delicate item that requires white glove delivery to a customer's residence, the e-commerce company would cover the white glove service's additional cost. However, if the recipient requests the delivery be done at a specific time, they will bear the cost of the appointment delivery accessorial service.
Is Fuel An Accessorial Charge?
Fuel surcharges are additional fees that are sometimes applied to shipments to account for fluctuations in fuel prices. A fuel surcharge is not considered an accessorial charge because accessorial services are mostly shipper-elective, while a fuel surcharge is not.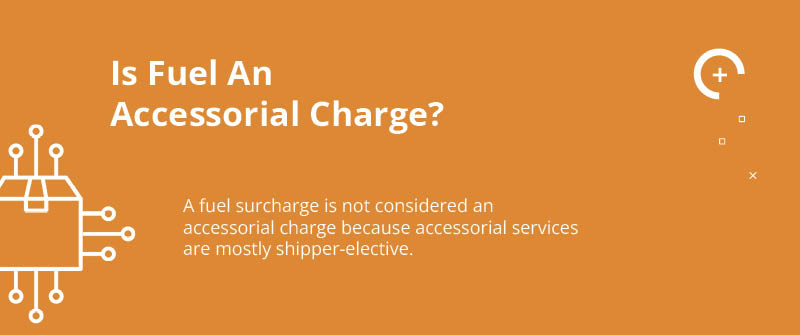 What Are Accessorial Charges For Drayage?
Drayage accessorial charges are the fees that a shipper pays either to the carrier or to a third-party company to move shipping containers from one location to another over a short distance. For example, from the port to the company warehouse.
How Much Is The Hazmat Accessorial Fee?
A Hazmat surcharge is one of the accessorial fees for carriers. It is applied for shipments that are considered hazardous/dangerous. For example, shipments containing flammable materials or toxic substances may incur a Hazmat surcharge. This surcharge applies to the shipping of any hazardous materials.
Below are UPS charges for handling Dangerous Goods/Hazardous Materials (Hazmat):
UPS Dangerous Goods (Hazardous Materials) Charges

Air Accessible

$145.00

Air Inaccessible

$68.50

Ground

$48.00
Below are FedEx's Hazmat surcharges by service:
FedEx Ground Network Hazmat Surcharges

FedEx Ground

$48 per package

FedEx Home Delivery,

International Ground Service

Limited Quantity only;

no charge applies
Hazmat Surcharges for FedEx Express Services

Surcharge Name

Applicable Services

Cost

Dangerous Goods – Dry Ice

U.S. Express Package Services

$7.05 per package

International Express Package Services

$7.05 per shipment

Dangerous Goods (accessible)

First Overnight, Priority Overnight

$145 per package

First Overnight Freight, 1Day Freight

Greater of $145 per shipment or

$1.16 per lb.

International Express Package Services,




International Express

Freight Services

Greater of $217 per shipment or

$1.18 per lb.

Dangerous Goods (inaccessible)

U.S. Express Package Services

$68.50 per package

U.S. Express Freight Services

Greater of $66.50 per shipment or

$0.43 per lb

International Express Package Services,




International Express

Freight Services

Greater of $107.50 per shipment or

$0.59 per lb.
ShipSigma Can Help You Lower Accessorial Shipping Fees
You now have a solid understanding of accessorial fees, freight costs, and how to steer clear of unnecessary surcharges. With ShipSigma's industry-leading software and methodology, you can save even more.
To begin, we assess your shipping accounts using our AI-backed systems, uncovering optimal cost-saving opportunities. Subsequently, we engage in negotiations with your carrier to secure improved rates. Lastly, we ensure your continued savings through weekly audits of shipping invoices and automated claim submission.

With this process, we have successfully served over 300 companies, saving them $100M+ in shipping costs. Want to be next? Contact us today.