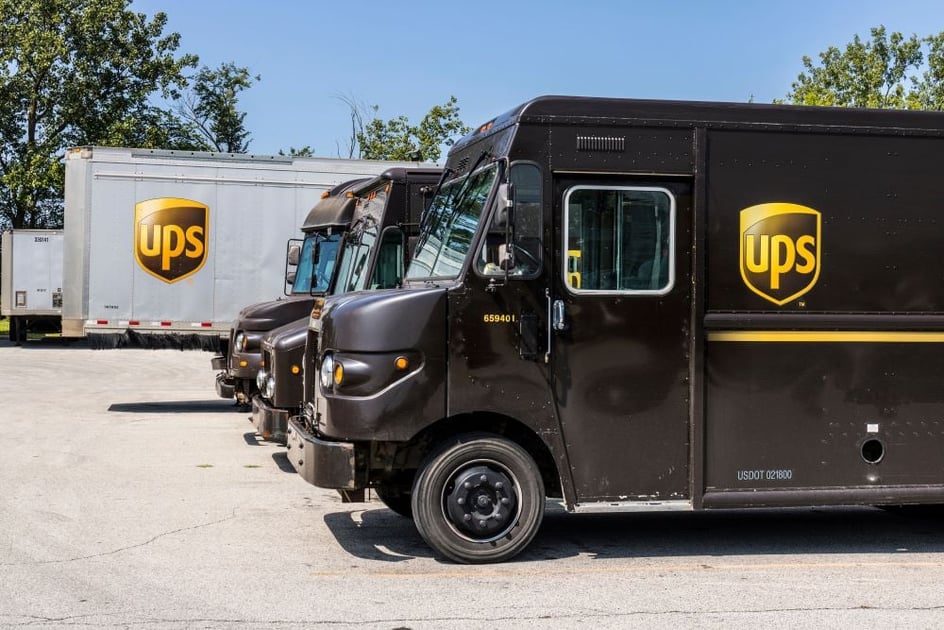 As a prominent player in the shipping industry, UPS provides various delivery services, from budget options to premium services. In this blog, we shine a spotlight on one of them, UPS Surepost, exploring its features, usage, and how it stacks up against other UPS services.

Join us to uncover the ins and outs of UPS Surepost and discover how it can be the ideal solution for your shipping requirements.
What Does UPS Surepost Delivery Mean?
UPS Surepost is a collaborative economical shipping service designed to cater to non-urgent, low-value business-to-consumer deliveries. It entails UPS handling the initial leg of the delivery to the destination city, and USPS often takes over the final delivery to the recipient's address. This hybrid approach ensures cost-effectiveness without compromising reliability, making it an ideal choice for businesses and individuals looking for economical shipping solutions.
However, not all last-mile delivery is left to USPS — UPS performs final delivery of 35% of UPS Surepost packages.
UPS Surepost is a contract-only option that is perfectly tailored for residential customers who ship over 20 packages and need a cost-effective solution with limited features.
For those who deal with high-cost or luxury products, UPS express services or UPS Ground would be a more suitable choice, offering greater liability coverage. However, if you prioritize a reliable, low-cost solution, UPS SurePost is your best bet.
Below is a table detailing the features of UPS Surepost service:
Features

UPS Surepost

Delivery

USPS, UPS® small package network will be utilized*

Delivery Days

Monday – Saturday

Origin: US48 to

US 48 States, AK, HI, PR, all US Territories, P.O. Boxes, and Military APO / FPO Destinations

UPS Surepost Delivery Time

Estimated 2 to 7 days to US 48 destinations. Non-US 48 destinations will have longer transit times.

UPS Surepost Tracking

Full visibility from ups.com® with USPS exception and delivery scans by the end of the day.

Manifesting

Package level detail (PLD) provided through UPS WorldShip®, UPS CampusShip®, UPS Shipping API, UPSLink Vendor,

Host Vendor or Host Systems

Package Weight

Ideal for packages less than 10 lbs.

Mail Classes

Parcel Select Lightweight, Parcel Select®, Bound Printed Matter (BPM), Media Mail®

Value Added Services

Not available

Pricing

Contract service

Billing

Conveniently shown on UPS small package invoice (Third party and consignee billing not available)

UPS Service Guarantee

Not available

Limitation of Liability

Maximum of $100 up to the point of transfer to the USPS

Offset Option

UPS carbon neutral provides customers with a way to offset the climate impact of their shipment for $0.05 per package
Does UPS Surepost Require a Signature?
No, UPS SurePost does not require a signature for package delivery. The final leg of the shipment, handled by USPS, typically follows their standard delivery procedures.
Is UPS Surepost Trackable?
All UPS tracking capabilities are compatible with UPS Surepost, including UPS overnight tracking. UPS SurePost shipments are trackable, and customers can easily monitor their packages on UPS' tracking portal. UPS tracking gives you complete visibility of your package, with the exception of USPS' time with your package. You also get scans to show delivery by the end of the day.
Is UPS Surepost the Cheapest?
UPS SurePost is a cost-effective shipping option, especially for non-urgent deliveries. For far-distance deliveries, it offers considerable savings compared to standard UPS Ground or other expedited services.
| | | |
| --- | --- | --- |
| Weight | UPS Ground | UPS Surepost |
| 1–10 pounds | $10.10–$33.22 | $10.55–$30.46 |
| 11–20 pounds | $14.10–$61.64 | $19.18–$49.19 |
| 21–30 pounds | $16.69–$86.63 | $22.70–$70.49 |
| 31–40 pounds | $20.19–$109.40 | $27.46–$86.97 |
| 41–50 pounds | $23.03–$126.88 | $31.32–$101.62 |
| 51–60 pounds | $24.79–$140.34 | $33.71–$110.02 |
| 61–70 pounds | $26.03–$143.63 | $35.40–$116.08 |
The rate ranges above are based on destination. I.e., the lower limit is the price for sending a package to the nearest zone, while the upper limit is the price to send a package to the furthest zone.

Based on the data, we can tell that UPS Ground is the cheaper option when sending a parcel to a close destination, and UPS Surepost is more cost-effective for sending packages further away.
For example, shipping a package weighing 30 pounds:
| | | |
| --- | --- | --- |
| | UPS Ground | UPS Surepost |
| Cost to ship 30 lb package to the nearest zone | $19.45 | $26.45 |
| Cost to ship to 30 lb package to the furthest zone | $86.63 | $70.49 |
For more details, you can look through these UPS rate tables: Daily rates, Retail rates, and UPS SurePost rates (1 lb or greater).
Does UPS Surepost Deliver to Your Door?
Yes, UPS Surepost delivers packages directly to your door. Whether it's a residential or commercial location, the SurePost service ensures your package reaches your doorstep efficiently.
How Is Surepost Delivered?
UPS SurePost packages follow a two-step delivery process.
First, UPS transports the package to the destination city using its extensive ground network. Once there, the package is handed over to USPS for final delivery to the recipient's address. However, in some cases where the delivery address coincides with UPS's pre-existing route, UPS will perform the final delivery itself.
This collaborative approach maximizes efficiency and enables businesses (like online merchants) to offer cost-effective deliveries to their customers.
At times, when there are issues like an incorrect delivery address, packages may become Undeliverable-as-Addressed (UAA) mail. UAA mail refers to mail that cannot be delivered and requires further actions, such as forwarding, returning to the sender, or proper disposal.
In these situations, UPS Surepost abides by the USPS Ancillary Service Endorsements, which are codes utilized by shippers to request the addressee's new address and provide instructions to the USPS on how to handle undeliverable-as-addressed packages.
How Long Will It Take a Surepost Package to Be Delivered?
UPS Surepost speed of delivery depends on the destination. The delivery time for UPS SurePost packages typically ranges from 2 to 7 business days for deliveries to the US 48 contiguous states. Deliveries to non-US 48 destinations will take longer to be delivered.
How Do I Ship With Surepost?
To ship with UPS SurePost, you can simply create a shipping label through the UPS website or any authorized UPS shipping platform. Ensure you provide accurate package dimensions and weight to calculate the correct shipping cost.
Make sure to browse the internet for UPS Surepost reviews to determine if it is a good fit for you. Also, search for UPS Surepost locations to find a UPS outlet near you.
Check out how to ship with UPS Surepost to military destinations.
How ShipSigma Can Help
Are you seeking reduced shipping rates? Let ShipSigma do the heavy lifting for you.
Our proprietary AI-backed process and our team's extensive 250+ years of shipping industry expertise ensure we find prime cost-saving opportunities for you. Connect with us today and be part of 300+ happy customers.