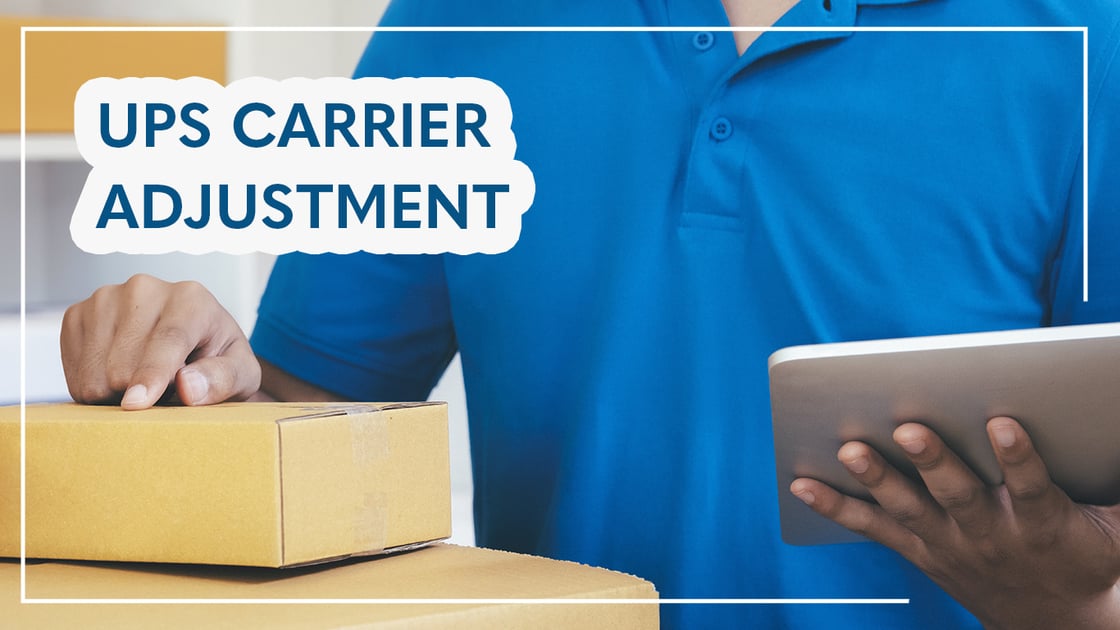 You've likely had some questions about the "Adjustments & Other Charges" section on your UPS bill. Navigating UPS surcharges and carrier adjustments isn't easy, especially when the list of possible adjustments is long. For high-volume shippers especially, ensuring the accuracy of carrier adjustments can lead to major cost savings. To catch these issues, many shipping companies conduct a parcel invoice audit. An audit will note, among many things, any invalid charges, improperly applied incentives, and opportunities for cost savings.
To understand the finer details of what an audit will look for, it's helpful to familiarize yourself with billing adjustments and incentives. In this blog, we will take a look at some common adjustments, types of incentives, and how the two can affect each other.
What Is a UPS Billing Adjustment?
As with most carriers, UPS reserves the right to audit any package or invoice and adjust your bill to reflect inaccuracies. It's part of their Tariff/Terms & Conditions of Service, so by using their services, you agree to these audits and resulting billing adjustments. Some of the more common billing adjustments include:
Large Package

- If your package's length plus girth [(2 x width) + (2 x height)] combined exceeds 130 in/330 cm, it is considered a large package. The minimum billing weight of large packages is 90 lb/41 kg. You can find more information regarding UPS weight rates on their website.

Invalid or Missing Account Number

- Simply leaving off your account number as the billable party will lead to an additional charge. This number can be found on page one of your bills.

Additional Handling

- If a package requires special handling, this is the charge you will see on your bill. Some examples of packages that require special handling include cylindrical items, wooden or metal shipping containers, or any package with its longest side exceeding 60 in/152 cm or its second-longest side exceeding 30 in/76 cm.

Extended Area

- UPS will assess this charge for certain delivery areas that are less accessible or populated. This is due to the additional costs associated with delivering to these locations.
If you're wondering how to dispute UPS charges, you can do so through your UPS account by selecting the "Invoice Tab," clicking the dispute link for any invoice you wish to dispute, and completing the subsequent form. If you're facing a large number of charges, it might be best to contact a shipping expert like ShipSigma for a thorough parcel invoice audit and recommendations to resolve these issues and lower your overall shipping spend.
Another thing to keep in mind when reviewing your UPS bills is your incentive credits. When a bill is full of multiple adjustments, incentive credit discounts may not always be applied properly. Let's examine some key features of UPS incentives so you know what to look out for on your next bill.
What Is a UPS Incentive Credit?
UPS offers promotional discount incentives that are based on the most recent UPS daily rates. Incentive credits are listed on your bill along with adjustment charges. One can easily affect the other, so it is important to approach a bill review by examining every detail. These incentives can be divided into two categories: guaranteed discounts and volume-based incentives.
Guaranteed Discount Incentives
As the name suggests, guaranteed discounts will apply to your bill regardless of your shipping volume (aside from any low-volume thresholds). UPS breaks down these incentives by weights, service, and zones. This UPS Service Incentive Summary illustrative guide shows an example of the charts UPS uses to determine what your discount will be based on these factors.
Volume-Based Incentives
These incentives are not guaranteed and depend on your shipping volume levels. For example, UPS may agree that they will apply a 10% discount to every ground package you ship as long as your base weekly transport charge is between $1,000 and $2,000. Generally, the higher the shipment volume, the higher the incentive discount.
For both types of incentives, the exact percentages and details are usually determined in your carrier contract negotiations.
Navigate and Negotiate Carrier Adjustments with ShipSigma
Before reaching out to UPS customer service or searching for a UPS dispute phone number, consider contacting ShipSigma. Many of our employees are former UPS and FedEx workers, giving us elevated knowledge of industry incentives and adjustments. The mission of our entire team is to cut parcel and freight shipping costs for our customers by offering:
If you'd like to discover numerous actions you can take to realize shipping cost savings, try our platform out for free today.