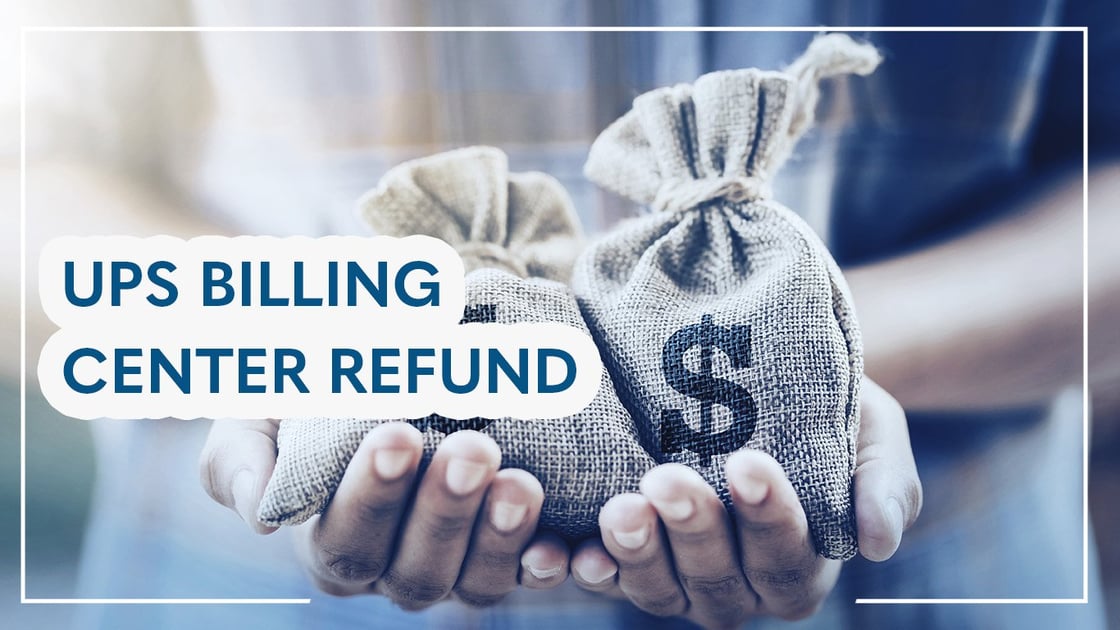 Everyone likes keeping money in their pocket where they can. This is especially true when you are wrongfully charged for something. Of course, everyone makes mistakes, including shipping carriers, but you shouldn't have to pay for someone else's error. A parcel invoice audit not only helps you spot UPS surcharges that you didn't expect to pay, but it also shows you where UPS might have overcharged you or charged you for a promised service that they failed to deliver.
This blog will cover everything you should know about UPS refunds and our AI-powered platform that you can use to help you get those refunds.
Will UPS Give a Refund?
UPS will provide a refund as long as you provide enough information for them to verify that you deserve one. We will discuss what information you will need to provide them with later.
There are two ways to get a refund: via a billing adjustment and via a claim. Billing adjustments deal with incorrect invoice amounts whereas a claim involves services not meeting standards.
You can request a billing adjustment for the following reasons:
Incorrect shipping rate
Incorrect billable weight
Incorrect account number used
Failure to deliver shipment
Incorrect type of service used
Incorrect shipping charge correction
Duplicate payment
Claims are made for:
Lost or damaged packages
A Collect on Delivery (C.O.D.) payment not received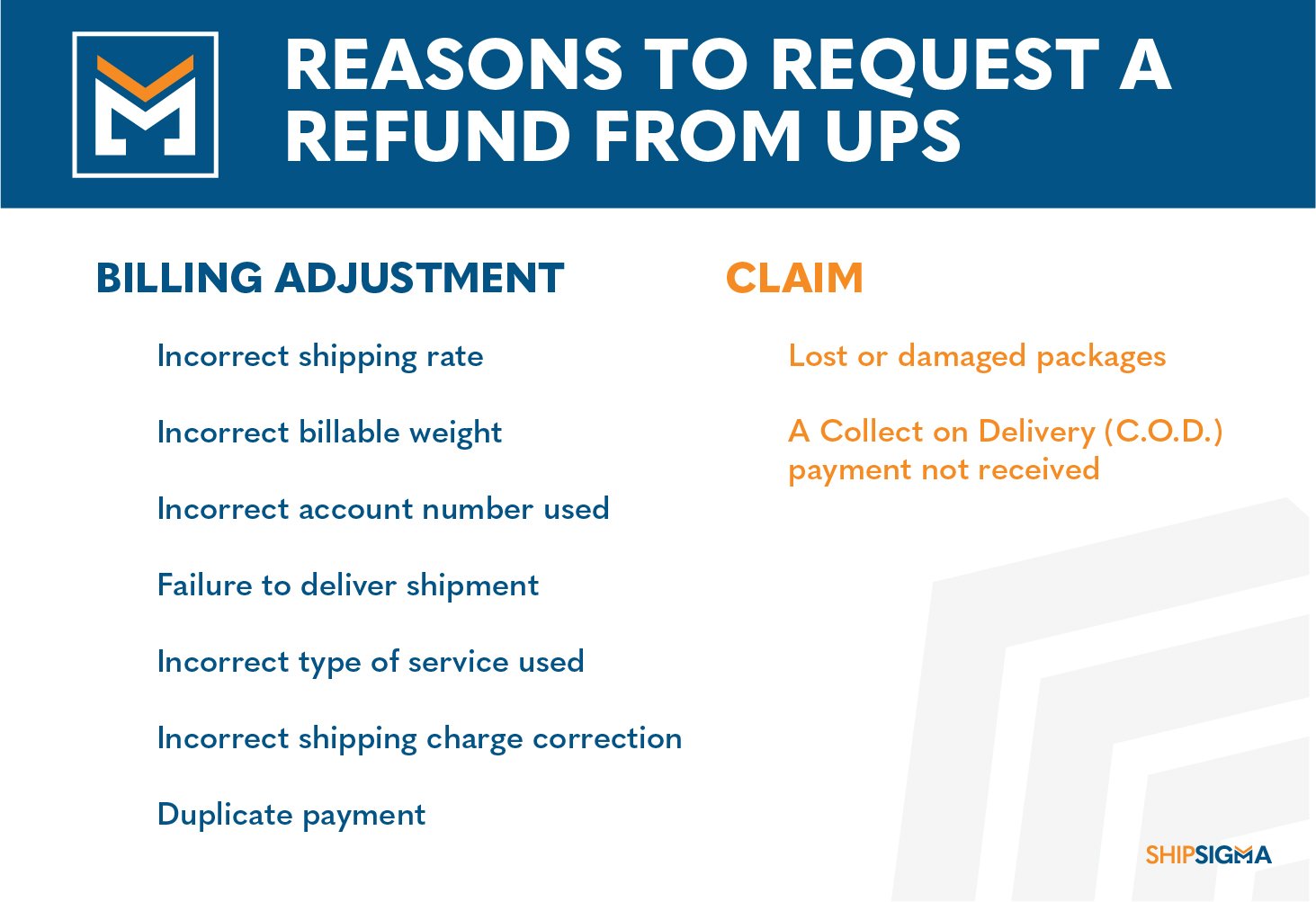 Can you cancel a UPS shipment and get a refund?
Yes, if you cancel it within 90 days of creating a shipping label. Your refund will come as a credit on your UPS account that you can use toward future shipments.
It's important to note that the UPS guaranteed service refund, which promised that you would receive a refund if your package wasn't delivered by the guaranteed date and time, has been temporarily suspended for all U.S. origin shipments except those sent through the following services:
UPS Next Day Air® Early
UPS Next Day Air®
UPS Next Day Air Saver®
UPS Worldwide Express NA1®
UPS Worldwide Express Plus®
UPS Worldwide Express®
UPS Worldwide Express Saver
UPS Worldwide Saver®
UPS Worldwide Express Freight® Midday
UPS Worldwide Express Freight®
How Do You Request a Refund From UPS?
To request a billing adjustment, you will have to submit a written request for one within 180 days of when you receive the invoice, or UPS will not consider your request. Use one of the following methods to submit it:
Use the UPS Billing Center.

Sign in to your UPS account
Go to the Invoice tab
Select the invoice you would like to dispute
Click the dispute button

Send an email via the UPS website.

You will need to log into your UPS account to use this method.

Mail the request to:

United Postal Service
PO Box 7247-0244
Philadelphia, Pennsylvania 19170-0001

Use an automated parcel invoice audit service like ShipSigma

Sign up
Link your UPS account(s)
Sit back while our ai-powered platform automatically submit claims/adjustment requests and you collect the refunds
When you make a billing adjustment request, include the date of your shipment, the tracking number for each disputed charge, and the reason for the request. UPS reserves the right to refuse your request if you have any outstanding charges on your account. They may also deny your right to request a billing adjustment for a time period of their choosing if you submit one without a substantial basis for it. Make sure to provide as much detail as possible when submitting your request.
To submit a claim, log in to your UPS account and file one online within 60 days of the scheduled delivery date or when you don't receive your COD payment following these steps:
Provide details that will help UPS track your package. These details include items like the tracking number, weight, and contact information for the recipient.
Let UPS know your role in the claim—whether you are the sender, the receiver, or a third-party representative for the sender.
Include additional documentation. This is where you want to provide as much information as possible. Receipts, invoices, purchase order numbers, and any details describing the product itself, including brand, colors, size, etc. If you are filing a claim about a damaged package, also include pictures of the damage. Once you submit the claim, UPS may ask that you come to one of their approved locations so that they can conduct their own physical inspection of the package.
Submit your claim. You should receive a notification as soon as you submit it. UPS will provide you with up-to-date information via your Claims dashboard as they become available.
According to the UPS refund policy, UPS reserves the right to charge you for submitting a claim if they find that they delivered your package in accordance with their terms. To learn more, review the UPS Tariff/Terms & Conditions of Service.
How Long Does a UPS Refund Take?
The time it takes to process your refund depends on how much information you provide to UPS. For claims specifically, UPS takes about 8-15 business days to officially process your request. Once they approve it, it takes about 3-5 days to process payment. They can either direct deposit it into the bank account they have on file for you, or they can mail it to you. If you elect for mailing, it can take up to 15 days to arrive.
Optimize Your Next Refund With ShipSigma
As a business owner, you may not have time to go through all your shipments to make sure that UPS is charging you correctly. ShipSigma helps you save time and money by filing claims for you. Once you connect your UPS account to our AI-powered platform, we perform a 50+ point audit and automatically submit claims for you when we identify issues with billing. Asking for your money back shouldn't distract you from running your business. Let us help. Contact us today for more information or to start a free trial.