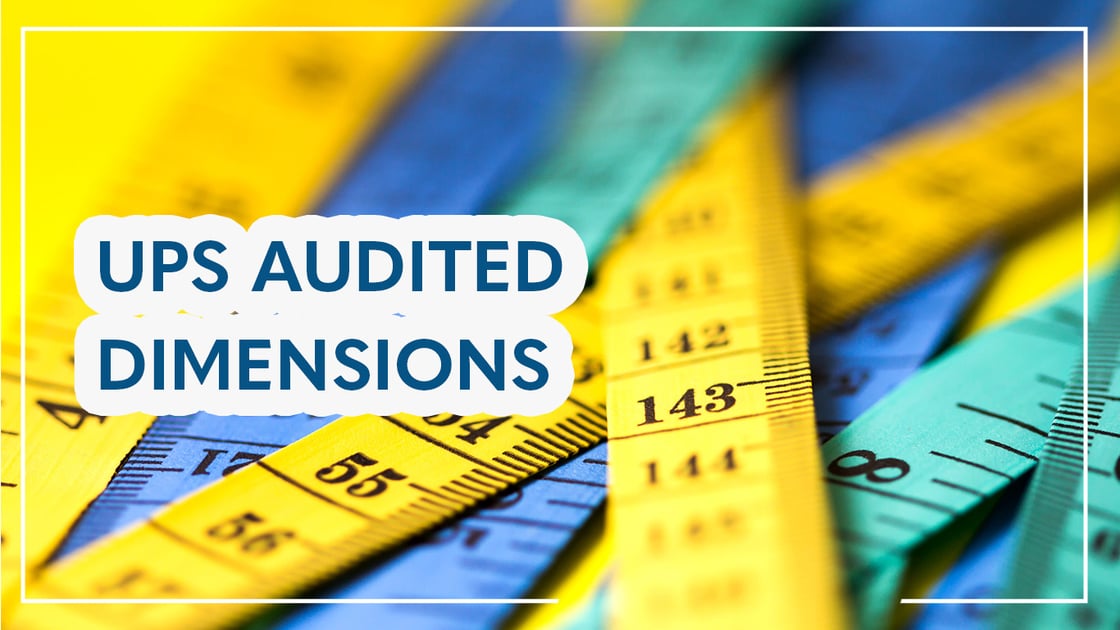 Shipping is getting more expensive as gas prices consistently fluctuate and limited cargo space fills up with packages of all sizes. Couriers like UPS charge businesses on more than just the size of the package. Based on dimensional weight and destination, payments through UPS can increase just by packing things incorrectly. To combat these rising costs, you might consider a parcel invoice audit to ensure you're getting the most out of your shipping. Once you examine additional handling charges and oversized package UPS surcharges, you'll want to make sure you get the best prices upfront. ShipSigma is built to bring down shipping costs so you don't have to worry about any unexpected charges with your packages.
So UPS charges for packages based on dimensional weight, but what does that mean?
What Does Dimensional Weight Mean in Shipping from UPS?
Package density, or the amount of space a package takes up in comparison to its weight, is referred to as dimensional weight (DIM). Dimensional weight is a way of pricing commercial freight and parcel transportation such as private couriers like UPS and postal services. DIM may apply to all UPS domestic and international package services they provide. All calculations should be in inches when determining the package's dimensional weight to ensure its billing weight is correct. Considering DIM transportation costs is a priority if your package has a large size-to-weight ratio.
Using DIM weight rates helps carriers to make greater use of their trucks, fuel, and other resources. Even if a box is light, if it takes up a lot of space on an aircraft or truck, the carrier will charge you extra to send it.
Does UPS Charge by Weight or Size?
Unlike other private couriers, who charge by whichever is greatest, UPS shipping costs are determined by the DIM (calculated weight and size) of the package, as well as the distance between the origin and destination. Typically, if the item's dimensional weight is more than its actual weight, the dimensional weight is used to calculate the price.
When determining your UPS dimensional weight charges, keep the size of the box your items will be shipped in mind. Simply downsizing a parcel by a few square inches or packing it in a more standard-shaped box would greatly minimize any DIM weight charges that may be levied. A correctly sized container may save you a significant amount of money on shipping charges.
To cut down on the expenses further, ShipSigma helps you improve your shipping efficiency with an average of 25.2% total cost savings through negotiations and audit services.
What Are the Maximum Dimensions for UPS?
In general, different package sizes and weight restrictions may apply to your specific shipment. UPS oversize package dimensions vary depending on the type of item you're shipping, like furniture or apparel, and how much it weighs. However, packages should be no longer than 108 inches and under 150 pounds. If a package is above a certain size and weight combination, it may require freight shipping services. The UPS oversize calculator should help you determine if your package meets the shipping specifications.
How Do I Calculate Dimensional Weight?
According to the UPS rate guide, there are three steps to make sure you correctly determine the weight and size of your packages.
Determine the actual package weight.


Weigh the package on a scale to get the exact weight. Any fractional weight should be rounded up to the next whole pound.

Determine the dimensional weight of your package.


You first need to determine the package dimensions (length, width, height) in inches for dimensional weight in pounds. For each dimension, measure at the longest point, rounding each measurement to the nearest whole number (for example, 1.00 to 1.49 will be considered 1, and 1.50 to 1.99 will be considered 2).
Multiply the package length by width by height to determine the package's cubic size in inches. Then divide the cubic size by 139 when measured in inches to determine the dimensional weight. Finally, round any fractional weight up to the next whole pound or kilogram.

Determine the billable weight of your package.


Compare the package's actual weight to its dimensional weight The billable weight is more than the other and should be utilized to calculate the rate.
Source: UPS
Using this calculation process will ensure you provide the correct information when shipping through UPS. If you don't estimate the dimensional weight correctly, you might face an additional charge.
What Happens if You Underestimate Shipping Weight?
When creating a shipment, it is important to submit accurate shipping details or you may be charged for further corrections after transferring the package to UPS. You should be indicating the correct package dimensions in your UPS Internet Shipping system as you prepare for shipping. If you underestimate the dimensional weight of your package, you'll be subject to a UPS shipping charge correction audit fee, which can increase your shipping costs.
ShipSigma Cuts Shipping Costs
There's no question that shipping is expensive for businesses. ShipSigma can help lower your shipping costs with parcel auditing and contract negotiation services to ensure you get the best price with UPS. We are built to optimize shipping for your small parcel or freight shipments. If you want to cut your high-volume shipping costs by 25%, sign up for free today!