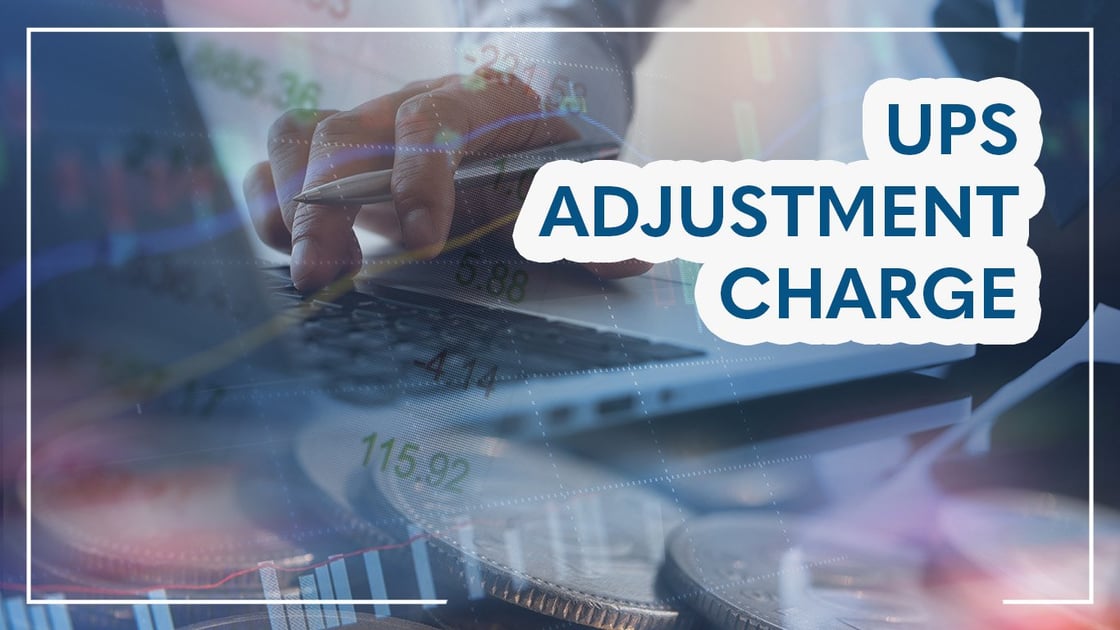 Cutting unnecessary costs is a vital part of saving a company money. Shipping charges are just one area that companies could look to save. Performing a parcel invoice audit allows you to have a closer look at your shipping costs, finding errors, and in turn, savings, in what you're being charged by shipping carriers like UPS. These errors may come in the form of UPS surcharges that you didn't know were added to shipping costs. While not all surcharges are avoidable, some are, specifically adjustment charges.
This blog will explore what an adjustment charge is and how to avoid these charges to save money.
What Is a Shipping Surcharge?
A shipping surcharge is any additional fee tacked onto the initial shipping cost. Shipping companies like UPS use surcharges to cover costs that they hadn't accounted for when preparing for shipment. The following are UPS surcharges that may be added to your shipping costs:
Fuel surcharges
Delivery area surcharges
Peak season surcharges
Oversized package surcharges
Adjustment surcharges
Other shipping surcharges
To see a complete list of UPS's surcharges, click here.
What Is a UPS Adjustment?
A UPS adjustment is any sort of change that UPS has to make to the shipping information you provided, whether the information is incomplete or incorrect. They can make changes to address, weight, dimensions, type of service needed, or shipping number if needed. UPS may also make a residential adjustment. What is a UPS residential adjustment? It is a change to a shipment that signifies that the delivery address is residential and not commercial. UPS considers businesses run out of someone's home as a residential address.
If UPS has to make any changes to the shipping information, they will make you pay for a shipping charge correction. Depending on how much the charge is, they might also charge you a UPS shipping charge correction audit fee. The UPS audit fee may be applied to any shipments with shipping charge corrections worth, on average, more than $5 per package. It costs $1 per package subject to a shipping charge correction or 6% of the total amount of shipping charge corrections, whichever amount is higher for the applicable invoice period. This fee does not apply to import shipments.
How to Avoid UPS Adjustment Charges
The simplest way to avoid a UPS adjustment charge is by double-checking the information listed on shipments before sending them out. If your information is correct but your carrier still misdelivers it, ShipSigma can help. We offer parcel invoice audits using our AI-powered platform that can help you make claims to get your money back. Below is a list of specific ways to avoid each adjustment charge to make sure the mistake wasn't on your end.
Dimensional Weight
UPS offers guidelines on how to correctly measure the dimensions and weight of your package. Once you put the correct dimensions in UPS's website when preparing your shipment, it will automatically apply the dimensional weight charge if needed.
Additional Handling
This fee applies to any package that meets the following criteria:
The longest side is more than 48 inches, or the second longest side is more than 30 inches.
Any shipment with an average weight per package of more than 50 pounds or packages over 50 pounds when the exact weight isn't specified.
Any package that isn't completely encased in corrugated cardboard.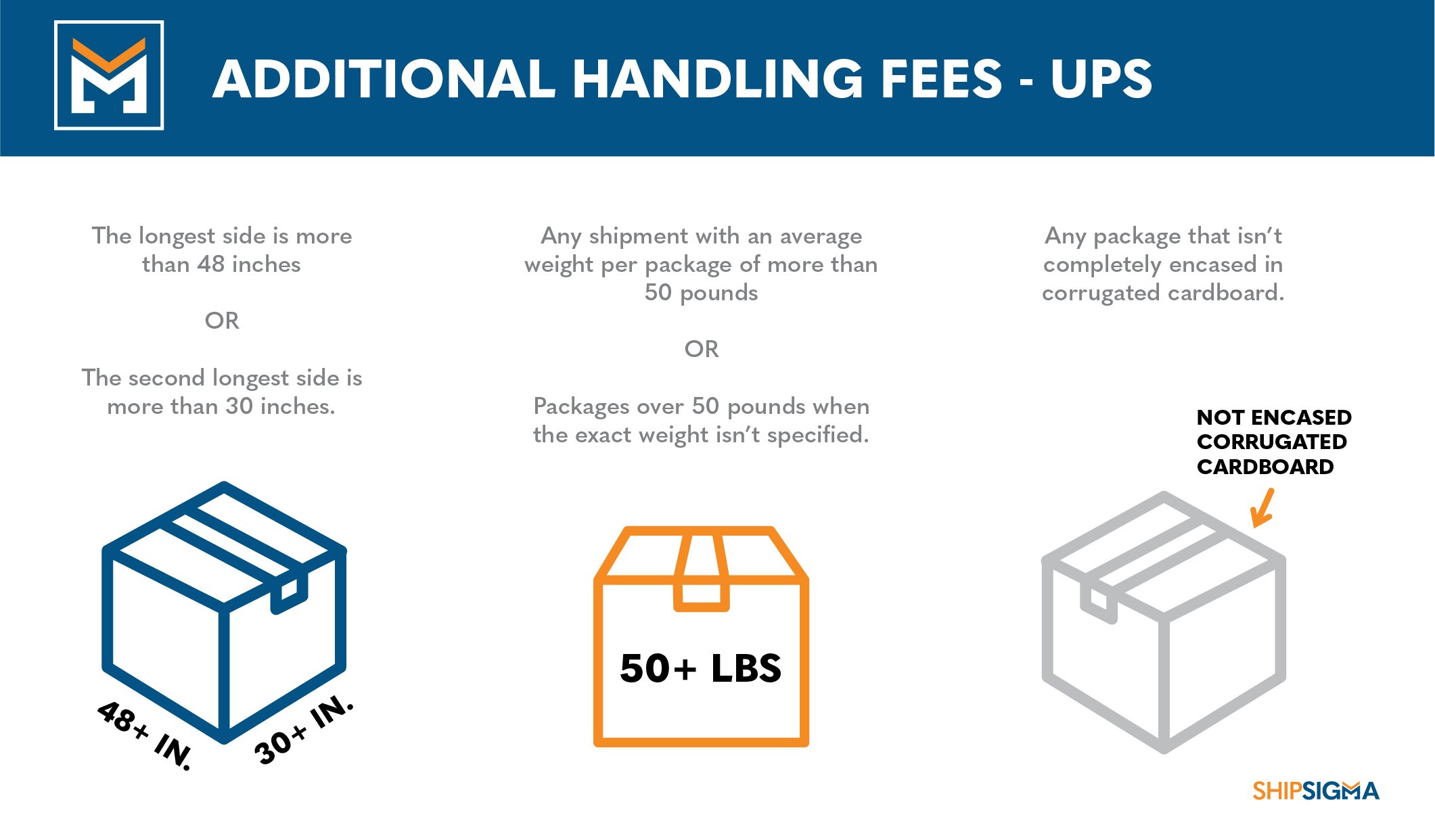 If your package meets any of this criteria, be sure to mark "Additional Handling" when inputting shipment information into UPS's website. You may also provide the correct weight and dimensions in the website, and it will automatically designate the need for additional handling.
Residential Surcharge
The first step in avoiding this surcharge is to make sure that you have put the correct address on the shipping label. To ensure that the address you have is valid, check it in the UPS address validator. Once you have the correct address, make sure to mark the box next to "Residential Address" when completing the shipment information online if you are shipping to a residential address. If you are unsure as to whether the address is residential or commercial, you may check using UPS's classification technology. It automatically classifies the address if it is in UPS's system.
Incorrect Weight
Make sure to use a standard scale when weighing your package. If your package has any fraction of a pound, round up to the next pound.
Over Maximum Size
This charge only applies to individual packages, not the entire shipment. It applies to anything you ship that meets the following criteria:
Over 150 pounds
More than 165 inches in length and girth combined.
More than 108 inches in length.
Anything with a large size-to-weight ratio requires special pricing and dimensional weight calculations.

To double-check that you are measuring your packages correctly, use UPS's guidelines. When you approach or go over the above criteria, send multiple packages if possible instead of trying to fit everything that needs to be shipped into one package.
Save Money With ShipSigma
It can be difficult to conduct your own parcel invoice audit when you don't have much experience with it. ShipSigma can help. Not only do we help you negotiate lower shipping costs with carriers like UPS & Fedex, but we also provide insight on your shipping invoices so that you know where you can save money. Our Audit & Reporting platform automatically identifies invalid charges and files claims for you to put that money back in your pocket. We will help you hold shipping carriers accountable to the contracts you have set up with them. Try our technology free today.