Shipping Discounts For Small Business
August 10, 2023 •Joe Jordan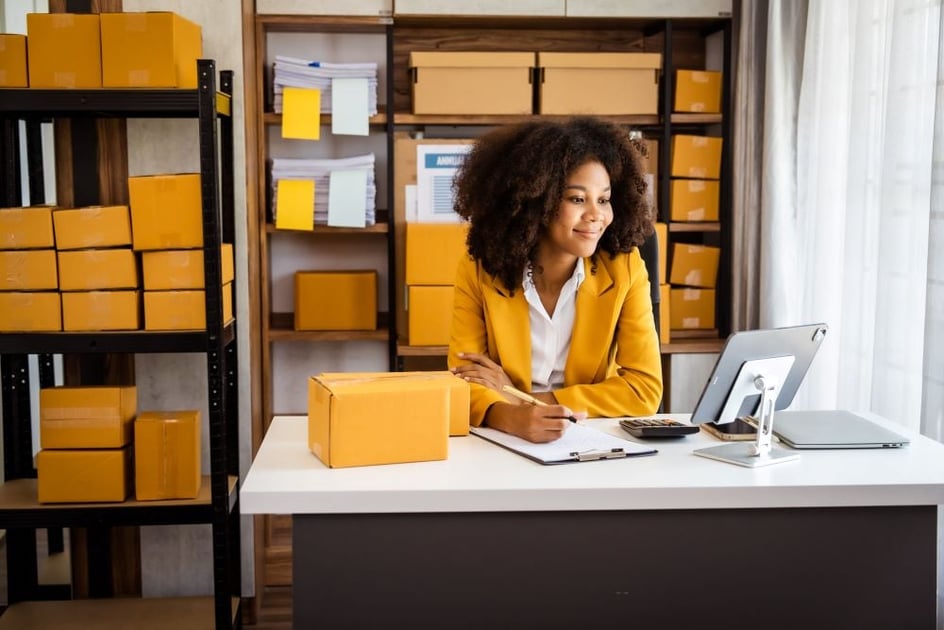 Discover how small businesses can take advantage of shipping discounts to save on costs and enhance their operations. Learn about various strategies and partnerships that can help your business thrive in a competitive market while offering affordable shipping solutions.
Which Shipping Services Are Best for Small Businesses?
Finding the perfect shipping carrier is crucial for businesses of all sizes, but it becomes especially vital for small businesses.
With limited resources and tight budgets, small businesses need to take every step to maximize efficiency. This includes opting for a budget-friendly shipping solution and taking advantage of shipping discounts. Let's take a closer look at some affordable shipping services for small businesses:
Best Shipping Options for Small Business
Below are some of the services from major carriers that offer the cheapest shipping for small business deliveries.
Service

Description

Delivery Time

UPS

UPS Surepost

It is an economical delivery service whereby UPS does initial transportation and USPS performs last-mile delivery. It is ideal for non-urgent, business-to-consumer deliveries of low value.

2 to 7 days

UPS Ground

UPS Ground is UPS' cheapest standard service.

1 to 5 business days

UPS 3-Day Select

A moderate-speed UPS service

3 business days

FedEx

FedEx Ground Economy

A cost-effective shipping service mainly used by small and medium-sized businesses to save on shipping costs

2-7 business days

FedEx Ground and FedEx Home Delivery

FedEx's cheapest standard service.
FedEx Ground is for business address deliveries, while FedEx Home Delivery is for residential deliveries.

1-5 business days

FedEx Express Saver

Medium-speed delivery service from FedEx.

3 business days

USPS

USPS Ground

Cheapest USPS package delivery service.

2-5 business days

Priority Mail Express

USPS' fastest service. Cheaper but slower than UPS and FedEx express services.

Next-day or 2 days
Shipping Discounts for Small Business
FedEx
FedEx has a platform called the "Small Business Center." Through this platform, they provide customers with various benefits, including discounts, rewards, shipping resources, and sustainable options. Some of the perks include:
Opening an account can save you up to 30% on eligible FedEx Express, FedEx Ground, and FedEx Freight shipping.

Join My FedEx Rewards program and earn brand-name gift cards by doing your usual shipping.
FedEx also partners with professional institutions and companies like American Express, BigCommerce, and the American Institute of CPAs. These partnerships provide members and customers with savings opportunities and other perks like free platform access.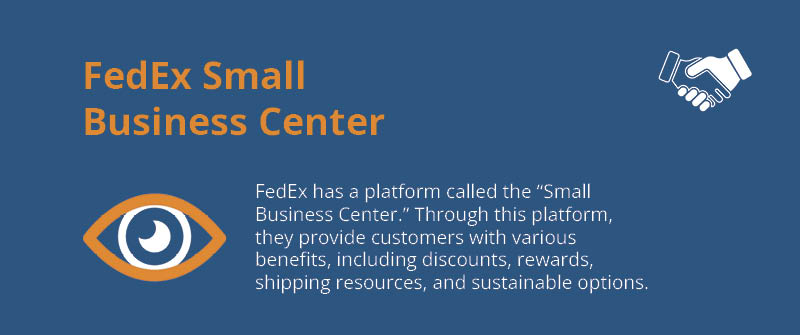 UPS
UPS also offers relief to small businesses through special rates and shipping discounts. When you subscribe to UPS Small Business Rates, you enjoy the following benefits:
Simplified Incentives - Access market-based, competitive rates that facilitate business growth.

Fewer Surcharges - Delivery Area Surcharge, Fuel Surcharge, and other value-added services are already included in the rates.

Fewer Add-On Fees - Say goodbye to Address Corrections, Shipping Charge Correction Audit, Missing PLD, and other additional fees.

Refined Contracts - No more lengthy contracts; our agreements now fit on just one page.
Apart from special rates, UPS offers discounts to small businesses. Here's how it works:
Step 1: Answer a Few Questions - Give UPS details about your business, such as how many packages you ship per week and whether you ship to homes or businesses mostly.
Step 2: Review Your Discounts - Look through the details of your commitment-free offer from UPS.
Step 3: Apply Your Discounts - If you're happy with the offer, you can save it to your shipping account.
Step 4: Use It Now - You can immediately use your discounts to reduce shipping costs.
How Much Does Shipping Cost for a Small Business?
It's challenging to provide an exact figure or even a range for how much small businesses pay for shipping, as each company and sector operates differently. Even if two businesses are of the same size in terms of revenue and staff, their shipping expenses could vary significantly. For example, one might require international shipping which may incur additional shipping fees.
However, as a general guideline, it's recommended to allocate approximately 5-15% of your product's sale price for shipping expenses.
Can You Get Shipping Discounts as a Business?
Yes, most carriers, including UPS, FedEx, and USPS, offer discounts and special programs to help businesses provide their customers with affordable shipping solutions without compromising the quality of service.

You can also apply for grants and sign up for promotions for more chances of saving money on your shipping expenses.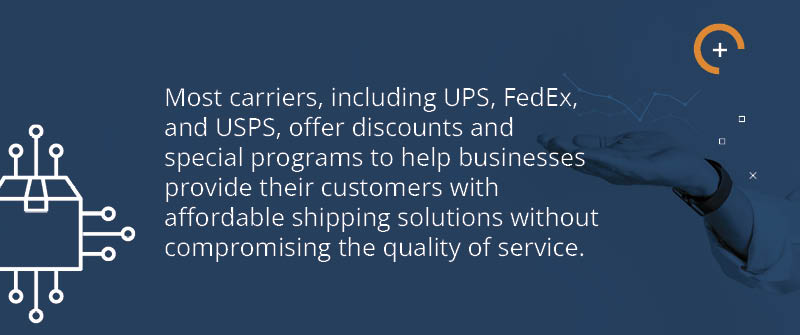 How Do Small Businesses Get Discounts on Shipping?
Small businesses can obtain discounts on shipping costs through various strategies and partnerships. Here are three effective approaches that can help them secure better shipping rates for small businesses:
Negotiating with carriers - One of the quickest ways businesses can get discounts is by negotiating directly with shipping carriers. The first step is to analyze their shipping volume, frequency, and common destination zones. Armed with this data, they can approach multiple carriers and discuss potential discounts based on their shipping needs. Often, carriers are willing to offer volume-based discounts to businesses that consistently ship large quantities.
Additionally, during negotiations, businesses can leverage their shipping history and loyalty to a carrier as bargaining chips.
Joining shipping associations and networks - These associations pool together shipping volumes from various businesses, allowing them to negotiate better rates with carriers as a group. By joining forces, small and medium-sized businesses can access the same competitive shipping rates enjoyed by larger corporations.
Moreover, shippers' associations may also provide additional resources and expertise to help businesses optimize their shipping operations and reduce costs further.
Partnering with a contract management company - Contract management specialists like ShipSigma specialize in navigating the complexities of shipping contracts and have extensive knowledge of the industry's rate standards and best practices. They can review existing shipping contracts, identify potential areas for cost savings, and negotiate with carriers on behalf of the business to secure more favorable rates.
With their expertise, businesses can optimize their shipping processes, gain access to exclusive discounts, and ultimately reduce overall shipping expenses, leading to improved profitability and competitiveness in the market.
ShipSigma Helps Small Businesses Optimize Shipping Costs
At ShipSigma we take pride in helping you secure discounted shipping rates. Our AI-powered software meticulously examines your shipping invoice data, uncovering the most effective cost-saving opportunities.
Join over 300 satisfied customers benefiting from our low rates. Contact us now and start saving!