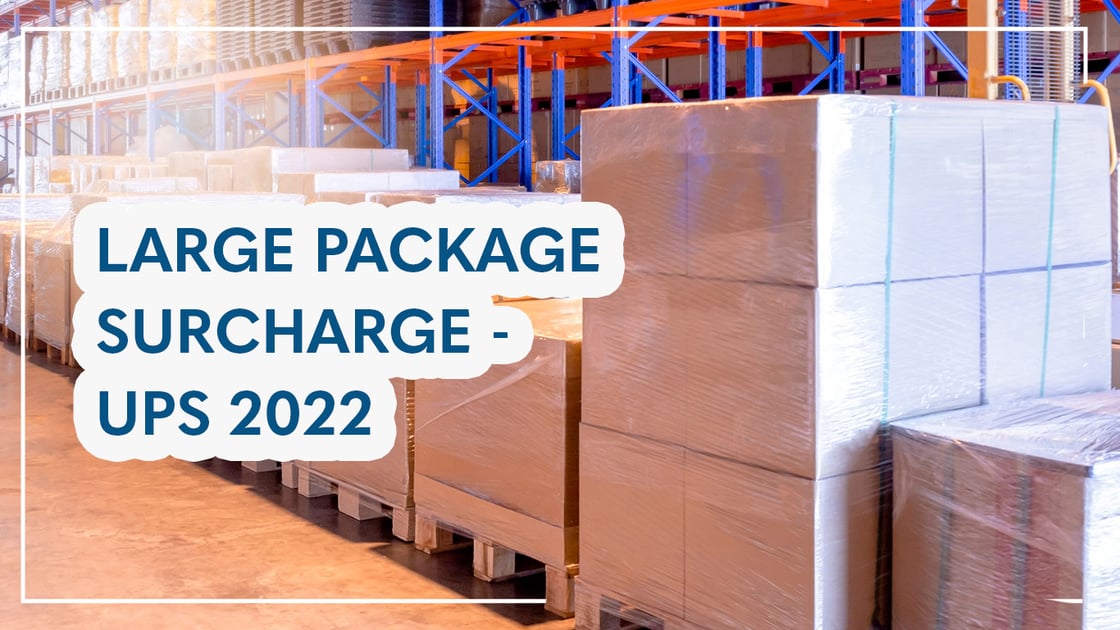 If you regularly ship packages, you know how complicated it can be to understand all the rates and charges that apply. This is especially true if you are shipping large or heavy items, which often have special surcharges added due to size. There are a lot of moving pieces when shipping packages (both literally and figuratively speaking), and performing a regular parcel invoice audit can help make sure you are only paying the fees required. With ShipSigma, your audits will happen automatically and your erroneous UPS surcharges will be refunded for large package shipments, amongst other things.
What Is a UPS Large Package Surcharge?
This surcharge is applied by UPS on any packages shipped that are over a certain "standard" size. It will be applied to both domestic and international packages, but international packages may have different size limits depending on the destination. Another surcharge that is closely related to the large package surcharge is the additional handling surcharge. It applies to packages that are larger than standard but not big enough to be classified as large packages. If a large package surcharge is assessed, an additional handling charge will not be (and vice versa). Based on the UPS 2022 Rate and Service Guide: Retail Rates document, this is how UPS defines the following sizes.
Standard Small Package Delivery (no size-based surcharges)

Weight: 0-50 pounds true weight (including weight of packaging)

Length: 0-48 inches (measure of the longest side, from the outside of the box)

Length + Girth (girth = 2 x width + 2 x height): 0-105 inches is standard

Additional Handling Surcharge for Large Size (but no large package surcharge)

Weight: 50-70 pounds

Length: 48-96 inches

Length + Girth: 106-130 inches

Large Package Surcharge (but no additional handling surcharge)

Weight: 70-150 pounds

Length: 96-108 inches

Length + Girth: 130-165 inches

Any package that is over these sizes is not acceptable for the UPS small package delivery service, and needs to be sent via freight service. If a package outside the range of the large package surcharges were to make it into the small package delivery service, it would be charged an over maximum limits fee of $1025 per package.
How Much Is the UPS Oversize Charge?
These surcharges are assessed on delivery distance (zone), and type of delivery address (residential vs commercial). The UPS large package surcharges for 2022 are:
Zone 2

Zone 3-4

Zone 5+

International

Commercial Delivery
Length=96-108"
Length+Girth=130-165"

$110

$120

$140

$145

Residential Delivery
Length=96-108"
Length+Girth=130-165"

$135

$145

$165

$145
In addition to these surcharges, most large packages are also subject to a minimum billable weight of 90 pounds. This means even if your large package weighs less than 90 pounds, your UPS rates will be calculated as if it did weigh 90 pounds. UPS Ground with Freight Pricing packages are an exception to this minimum billable weight charge.
There are a variety of UPS large package surcharge calculator options online as well, so you can be sure you have understood which category your package falls into, and that you are working with the most up-to-date surcharge fees.
Which UPS Services Are Subject to Large Package Surcharges?
According to UPS, most of their shipping options will be subject to the large package surcharge. They include:
Early UPS Next Day Air®
UPS Next Day Air Saver®
UPS 2nd Day Air A.M.®
UPS 2nd Day Air®
UPS 3 Day Select®
UPS® Ground
UPS® Ground with Freight Pricing
UPS Worldwide Express Plus®
UPS Worldwide Express NA1®
UPS Worldwide Express®
UPS Worldwide Saver®
UPS Worldwide Expedited®
UPS 3 Day Select® from Canada
UPS® Standard to/from Canada
UPS® Standard to/from Mexico
How Are UPS Shipping Rates Calculated for Large Package Surcharges?
Shippers are required to provide full and accurate shipping information on documents or within the automated UPS processing system. This includes true dimensions of packages and weight. If your package is determined to be eligible for a large package surcharge based on the measurements you provide, this surcharge will be added. Additionally UPS reserves the right to measure and weigh any package within their system to check that the provided information is correct. If your package is found to be larger than stated, falling into the large package size range, this surcharge can be added at any time.
ShipSigma: Taking the Sting Out of Surcharges for High Volume Shipping
At ShipSigma, we know how much extra charges like these large package surcharges can add up for high volume shippers. Our parcel invoice audit will automatically search for refunds where these were charged in error. We can also help you negotiate favorable rates with your carriers, and our shipping insights and analytics will help save you even more in the future. Contact us today to see how we can help you save money on your shipping.