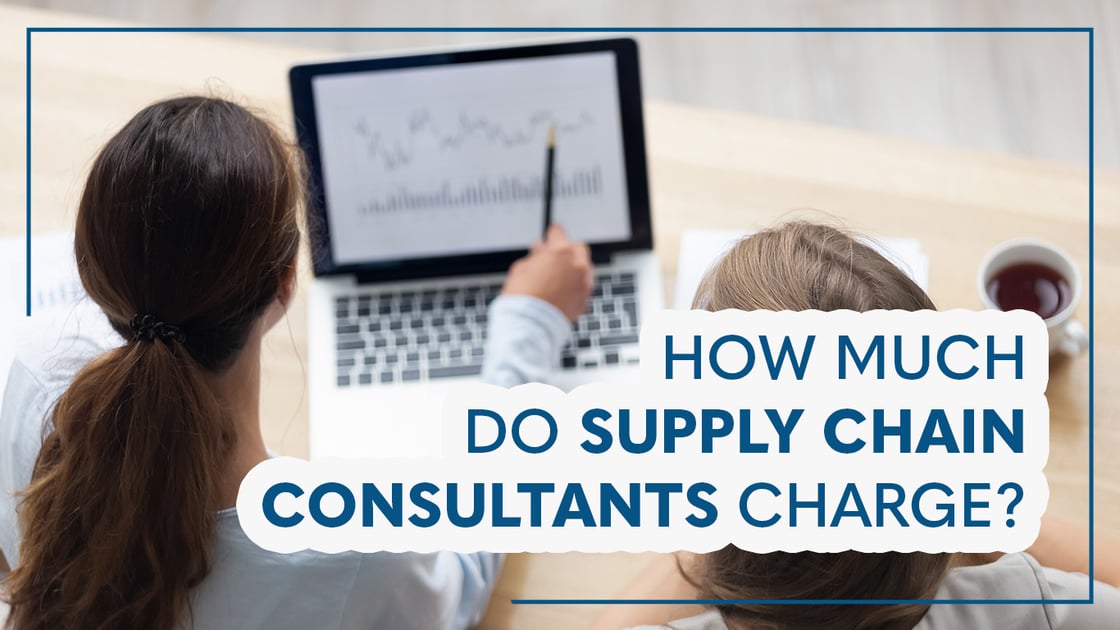 Setting up and managing the supply chain for a business is a huge task. Supply chain consultants can help organize, optimize, and manage all aspects of a supply chain (from choosing suppliers to parcel audit services), and may provide a great deal of value. As in most consultant roles, there is a huge range of fee structures for their expertise. In this article, we will explore the role, skills, and fees of supply chain consultants in more detail.
What Is a Supply Chain Consultant?
A supply chain consultant is someone with a lot of experience in manufacturing and logistics that goes through your entire supply chain and looks for ways to increase efficiency, decrease costs, and improve customer satisfaction. This includes everything from choosing a supplier for raw materials, to warehouse optimization, to delivery method management. Since the supply chain is so large and complex, it can be beneficial to have experts on specific elements get involved.

Now that we have a general idea of what a supply chain consultant does, let's look at some of the specific areas they may explore and how they provide value:
Supplier Selection

Compare rates to find most value
Suggest working with multiple suppliers for supply line resilience
Negotiate the best rates or volume discounts

Inventory Management

Analyze manufacturing times and order volume to predict optimal ordering times and amounts
Implement systems for rotating inventory to reduce waste or spoilage
Recommend increasing or decreasing warehouse space for cost savings

Incoming Transportation

Look for ways to reduce incoming shipping costs from suppliers
Create more efficient ways for incoming orders to be unloaded, sorted and organized
Suggest alternatives if incoming deliveries are experiencing delays or other issues

Outgoing Transportation

Compare pricing on different carrier options
Optimize parcel size and dimensions for lowest cost
Negotiate for lower carrier rates
Supply Chain Consultant Skills
Now that we've answered the "what does a supply chain consultant do?" question, we can explore more of the skills, experiences, and expertise that allow them to do their job well.
Variety of Experience:

Since each company's supply line will vary so much, a successful consultant needs experience working with a wide range of different approaches used in different situations. This way they better understand how your supply line is unique but fits patterns they can draw from.

Technical Knowledge:

Competence in the latest data collecting and analysis software is necessary for a supply line consultant, and generally the more they can harness the power of data and AI analysis, the more helpful they will be.

Industry Specialization:

In order to best serve your company, they need to truly understand the industry you work in and how your supply line affects your ability to deliver your products.
With all these skills, your supply chain consultant is in a great position to recommend real, meaningful changes to improve your business. Because the supply line is such an involved part of a business, your consultant needs to understand how recommending a change in one area will affect all the moving pieces of your supply line and ultimately make it better.
How Much Does a Supply Chain Consultant Charge?
With the variety of skills required and scope of the work they do, supply chain consultants are highly-skilled professionals and will charge accordingly. It is impossible to give even a range of consulting fees per hour, however, because there is such a wide range of prices and payment structures. Here are some consultancy fees examples, based on some of the different factors that will play a part.
Location:

A consultant in a major city with many competing and varied options for each step in the supply line (think Los Angeles, New York City, or London) will likely have a higher rate than one in a very rural community with many fewer options for suppliers and delivery.

Industry:

Some industries require a lot of specialist knowledge, frequently change, or require consultants to build relationships with many different suppliers (like technology hardware). Other industries may require less technical understanding or a fewer number of suppliers to communicate with (like broom handle manufacturing).

How Fees Are Calculated:

Some consultants will charge an hourly rate, some will negotiate a contract to complete a specific job, some will work on retainer for a company, and some may calculate charges based on a percentage of the amount of savings they provide. All of these different ways of calculating fees for a supply line consultant mean they can charge anywhere from $50 to $500 per hour.
ShipSigma: We Make Shipping Better for You
The supply line of your business runs through the core of what you do. Making sure all parts of it are optimized is a monumental task, and ShipSigma is here to help with our specialist knowledge for the final leg of the supply line. We reduce costs for high-volume shippers through our unique parcel invoice audit, carrier contract negotiations, and shipping insights & analytics tools. Contact us today to start saving on your shipping tomorrow!