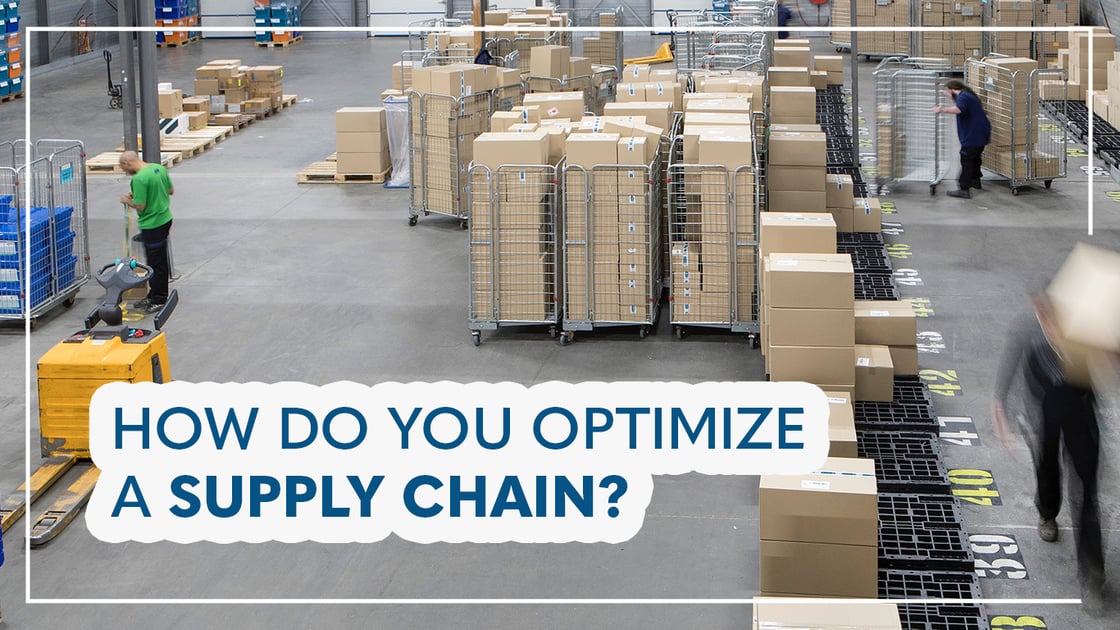 Supply chain issues have dominated headlines since COVID-19 stalled global logistics. The New York Times traces shipping delays to warehouse shortages in congested areas, reduced credit, and outdated logistics technology. With issues on such a grand scale, sorting out your logistics can seem impossible.
The good thing, though, is that for everything out of your control, there is still opportunity to optimize your supply chain. Whether renewing employee training for proper packaging or reducing extra costs through a parcel invoice audit, this article will introduce you to methods for improving your shipping optimization.
What Is Optimization in Supply Chain Management?
Optimization in supply chain management is breaking down the entire system to identify areas that could be performing better and taking action to see improvement. Optimization in any industry has the goals of making a process more efficient and cost-effective, and this is no different in the world of shipping. Supply chains have many moving parts—from contract negotiation to packing and shipping—which means lots of opportunities for optimal performance or wasted resources.
Why Is Optimization Important in the Supply Chain?
The importance of supply chain optimization goes well beyond the financial—although that is still a major motivator. Having a supply chain that runs smoothly from the manufacturing of your product until that product lands in your buyers' hands increase customer satisfaction, brand reputation, and ultimately, profits.
What Are the Key Issues in Supply Chain Effectiveness?
Supply chain optimization problems can occur on a global scale or within your own business. For key issues in supply chain effectiveness, this post will focus on segments of the process that you can have control over.
Packing
For many businesses, packing is handled in-house. What can go wrong here? One minor error that can add up quickly is labeling that doesn't match the size and weight of your parcels. For example, both UPS and Fedex use dimensional weight for lighter packages with large dimensions. For how each carrier calculates dimensional weight, visit the UPS and FedEx websites. Correctly labeling your packages can avoid delays and additional relabeling and administrative fees.
Shipping
Work with the shipping carrier that can deliver the most reliable service. When negotiating a contract, see how the different carriers stack up when it comes to speed, accuracy, tracking services, and reputation. While choosing a brand that your customers will know and trust, it's also important to consider the behind-the-scenes needs of your business like shipping insurance and surcharges.
Cost Reduction
After you sign your next carrier contract, there are still opportunities for savings after the negotiations are finished. Extra charges like damaged or lost packages can occur down the supply chain, and even though it is the carrier's responsibility to cover those costs, businesses often get stuck with the bill. Why is this? Payment data and parcel invoices can get overlooked in a mess of paperwork. How do you prevent paying more than you negotiated for? With regular freight and parcel invoice audits. Audits compare your payment data to your contracted rate to root out any discrepancies. If you are being overcharged for errors made by your carrier, then you can request a refund.
In the same way that small errors can add up into big costs and inconveniences, small, purposeful improvements can cause a positive impact down your supply chain.

What Are the First Steps in Supply Chain Management?
The first step in supply chain management is identifying where you are having issues. Are you being affected by rising fuel costs? Are the raw materials that you rely on in short supply? Do your parcel invoices keep showing higher costs than you expect?
Once you have a clear idea of what's interfering with your supply chain, you can develop a plan for action. You don't need to overhaul all of your processes at once. Instead, choose a few that you have control over and continuously improve from there. Maybe your warehouse employees would benefit from training on the latest UPS and Fedex packaging guidelines, or you might decide to crack down on extra costs by purchasing auditing software.
Start Optimizing Your Supply Chain with ShipSigma
ShipSigma gives you back control over your shipping costs. With parcel audit software and services that are powered by A.I. and are up-to-date on the latest shipping trends, you can benefit from insights that save you money now and in the future. In fact, when combined with the leverage gained during contract negotiations, our audit insights have saved our customers an average of 25% on high-volume shipping costs.