How Do I Get a Commercial Invoice for FedEx?
May 14, 2022 •Chase Flashman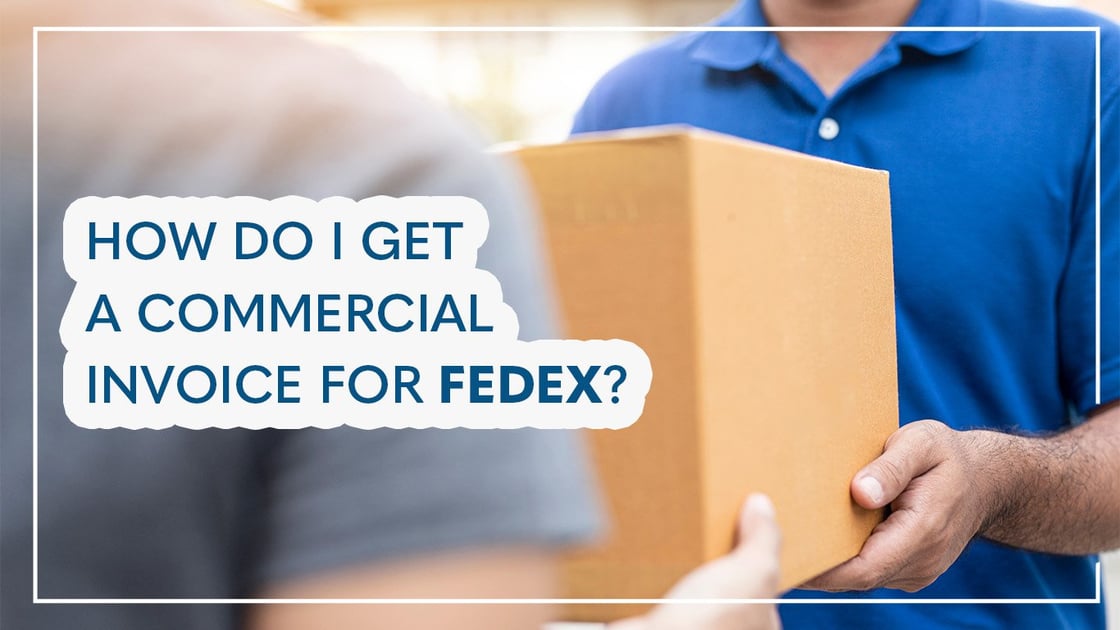 In today's global economy, international shipping is commonplace for companies across a wide variety of industries. For businesses, understanding the intricacies and requirements that accompany shipping internationally is critical for business success. One of the most critical documents that companies need to be aware of is the commercial invoice, which is the building block for all other shipping documents that accompany an international shipment.
Getting the finer details right on your commercial invoices can help companies get the most out of their parcel invoice audit down the road, and it may even help companies avoid certain FedEx surcharges. This article will explore what a commercial invoice is, why you need one, and how to access easy-to-use templates for completing your commercial invoices.
What Is a FedEx Commercial Invoice?
A commercial invoice with FedEx or any other shipping company is an official document and a transactional record used for the import and export clearance process for international shipments. A commercial invoice is required any time you're shipping something that holds commercial value internationally, which applies to most non-document shipments.
Commercial invoices serve as the foundation for any other required or recommended international shipping documents. They provide more detailed shipping information than standard invoices, and they are used by customs officials when a parcel crosses international borders to calculate import taxes and duties. As such, it is essential that the information provided on a commercial invoice is detailed and accurate and that it matches any information provided on a shipping label.
Why Do I Need a Commercial Invoice for FedEx?
A FedEx commercial invoice is required for any commodity parcels being shipped across international borders. Here are just a few of the reasons why a commercial invoice is necessary.
International Requirement: Because commercial invoices are required, filling them out fully and completely is essential to maintaining good relationships with customs authorities.
Taxes and Duties: Commercial invoices are used by the majority of foreign customs agencies to process and control imports and determine taxes and duties. This information is essential for the smooth running of shipping operations worldwide.
Prompt Delivery: Accurate and detailed commercial invoices help prevent potential hold-ups and delays in shipping, which ensures your customers get their items on time.
How Do I Get a FedEx Commercial Invoice?
There is no standard format for a commercial invoice. However, FedEx provides blank commercial invoice templates for shippers to use should they choose to. This interactive FedEx commercial invoice PDF can be completed by typing all the pertinent information and printing it. Alternatively, companies may print a blank copy of the PDF and hand write it.
FedEx also offers a number of other interactive FedEx forms online, including blank Certificates of Origin forms, for your convenience.
What Is Required For a Commercial Invoice?
Because there is no standard international format for commercial invoices, it is important to understand any particular requirements for the country you are shipping too. FedEx International Shipping Assist is an excellent resource for filling out commercial invoices, and it can help shippers find information such as the correct Harmonized System code and estimated shipping costs.
With that said, commercial invoices generally include the following pieces of information.
Shipper Contact Information: Information such as company name, tax ID number, contact name and information, and full address
Country of Manufacturer: This should indicate where each item in the parcel was originally manufactured
Consignee Information: Contact information for the ultimate recipient of the parcel
Importer: If the shipment is being handled by someone other than the final recipient, the full name and address should be included
FedEx International Air Waybill Number: Include this as the main reference number, and ensure the values on the commercial invoice match the values on the Air Waybill
Item Description: Each item should include a full description, including the Harmonized System code (where applicable), number of units, weight, the reason for export and intended use, serial numbers (where applicable), and value
Signature: FedEx requires a signature for each commercial invoice, and the signature must be present on the original commercial invoice and each of the three required copies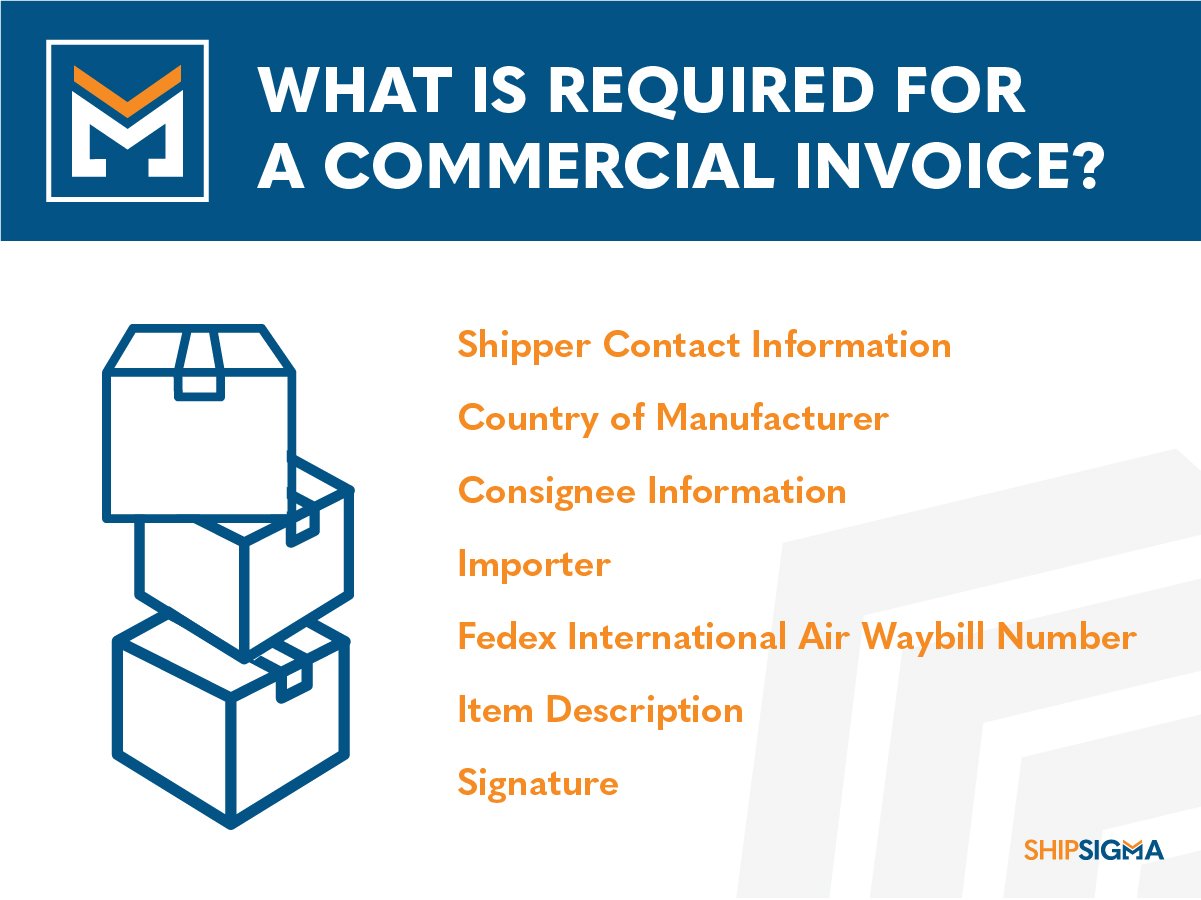 ShipSigma: Instantly Reduce Your FedEx Shipping Costs
Understanding the ins and outs of commercial invoicing can certainly help keep international shipping costs and delivery times down. But for companies truly looking to get the most out of their shipping spend, a larger parcel invoice auditing process can help.
At ShipSigma, we help companies cut parcel shipping costs quickly and easily. Our AI-powered, fully automated invoice auditing platform scans weekly UPS and Fedex invoices, performs a 50+ point audit, and automatically files claims to put money back into your pocket instantly.