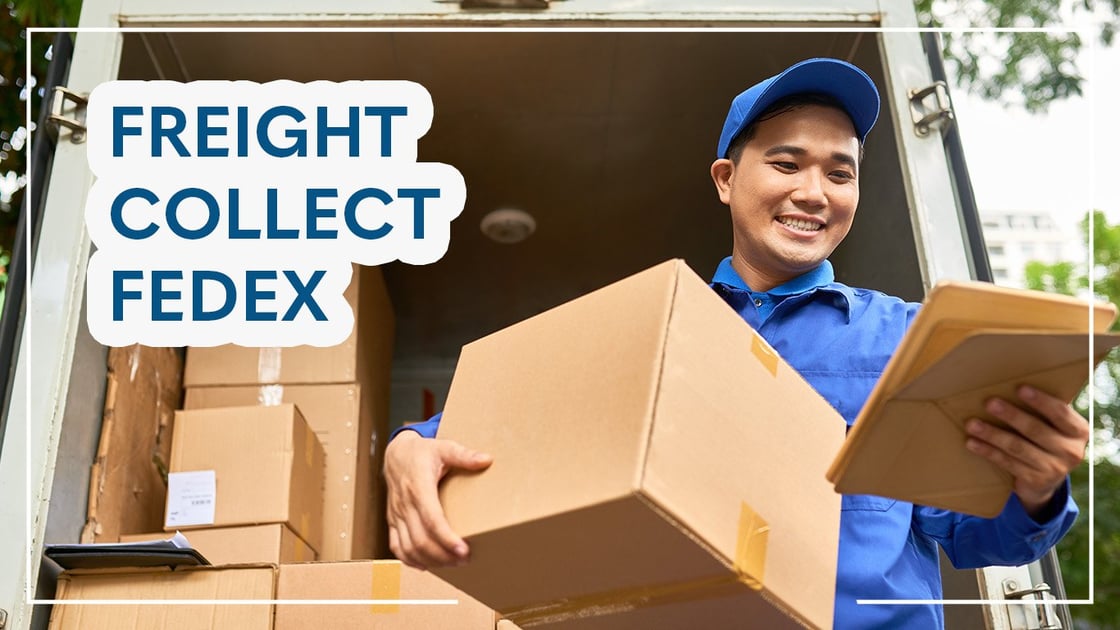 Your business needs to ship products to eager customers around the world, but shipping freight can be a hassle when considering how to ship and how much it costs. Freight shipping through FedEx provides you with many options to get your products where they need to go most efficiently. But are you getting the most cost-effective shipping when you schedule a delivery? A parcel invoice audit can help you get the best prices when shipping your freight. ShipSigma can assist you with FedEx surcharges to ensure you get the best price for your shipping needs.

What is collect shipping and how can it help your business with shipping costs? First, let's talk about freight shipping.
What is Freight Shipping?


Freight shipping is the shipment of products totaling over 150 pounds to any destination. It can be transported domestically or internationally—by land, air, or sea using planes, trucks, trains, or ships. Freight shipping is different from parcel services, as it requires a large shipment in weight or size if a package is over 108 inches by 165 inches. Freight cargo loads are based on how much space they take in a shipping container once placed on pallets. It can be broken down into three categories:
Full truckloads (FTL):
When a single truck is dedicated to one entire shipment, it is known as a FTL. This type of shipping can be more expensive, but it's more efficient and ensures your shipment will be received on time in the correct location.
Less than truckloads (LTL):
As the name suggests, LTL shipments only take a portion of the truck trailer space. Since LTLs are typically seen as less urgent than express freight shipped by plane, they can be more cost-effective to transport.
Partial truckload shipments (PTL):
PTLs enable several shippers to transport their goods in one truck while splitting the costs and only paying for their space. PTLs ship more volume than an LTL, but do not fill up a container like an FTL.

Paying for a full truckload when you only need a partial amount isn't financially viable for a business long-term. Choosing the right type of shipping for your needs will allow you to ship your freight through FedEx by only paying for what you need. Using ShipSigma, you can look at price modeling to allow the most efficient use of your shipping through insights and analytics while maintaining cost-effectiveness. Once you decide on the shipping right for you, you can consider prepaid or collect.
What Is Freight Collect FedEx?
Freight Collect refers to when freight shipping charges and other costs are the receiver's responsibility. Another thing to consider is the International Chamber of Commerce (ICC) term Free On Board (FOB) Origin, where all ownership of the product transfers to the buyer as soon as the carrier picks up the freight and signs the bill of lading (BOL). Then charges are collected from the receiver once the item arrives at its destination.

If you're shipping freight for your business, you might be considering shipping via FedEx Freight to Collect (FTC) to bill the receiver directly after all shipping costs have been calculated. Part of this decision can be due to fluctuations in shipping costs, especially if shipping overseas and exchange rates change.

For example, if your business produces work boots and ships them to retail locations throughout the United States, you might consider sending a full truckload to a big city. After calculating the cost and risk involved with such a shipment, you should think about having the receiver pay for shipping once the items reach their destination. Since the ownership of the product transfers to the receiver once the freight is shipped, any of the costs or safety of the shipment is taken on by them rather than your business. This means you don't absorb the negative costs associated with shipment.
How Do I Ship Freight Collect FedEx?
Once you pull your individual orders, you treat a freight collect shipment like any other. You should follow these steps:
Pack your shipment.
Choose a freight classification (FTL, LTL, PTL).
Create a shipping label, which can act as a bill of lading (BOL).
Schedule a pickup.
Receive a FedEx Collect tracking number.
Once you complete a FedEx Freight bill of lading online or by hand, you'll be able to select whether or not you'd like to make your shipment collect or prepaid.

How Do I Schedule a Freight Pickup?
FedEx Freight Collect pickup is easy to set up like regular deliveries. Still, there are a few things to be aware of while scheduling:
The cut-off time for scheduling a pickup is 3 P.M. Any online requests made after that time will likely have to be scheduled for another day. Because pickups are scheduled within a 90-minute window, the last pickup time available is 90 minutes before you close for the day.
You can only schedule a freight pickup for the same day with FedEx Express Freight. You can reserve space through the booking process, but you can only request the pickup same-day. You cannot request online if you want the day before or after the shipping day.
Less than truckload (LTL) shipments can be scheduled up to ten days before the pickup date.
Depending on the type of shipment you need, you'll have to sign in to your FedEx account to schedule a pickup. Once logged in, select "Pickup" from the menu and follow the instructions. You'll be asked to provide information about your shipment and things like "ready time" or "close time" to ensure successful pickup.
ShipSigma: Make Shipping Worth It
With ShipSigma, you can be sure you're getting the best-negotiated prices with FedEx. We offer parcel invoice audit software that allows you to automate invoice auditing, reduce cost on your shipments and get instant savings with no long-term contract. We can ensure you're getting the most out of your freight. Try ShipSigma free today!