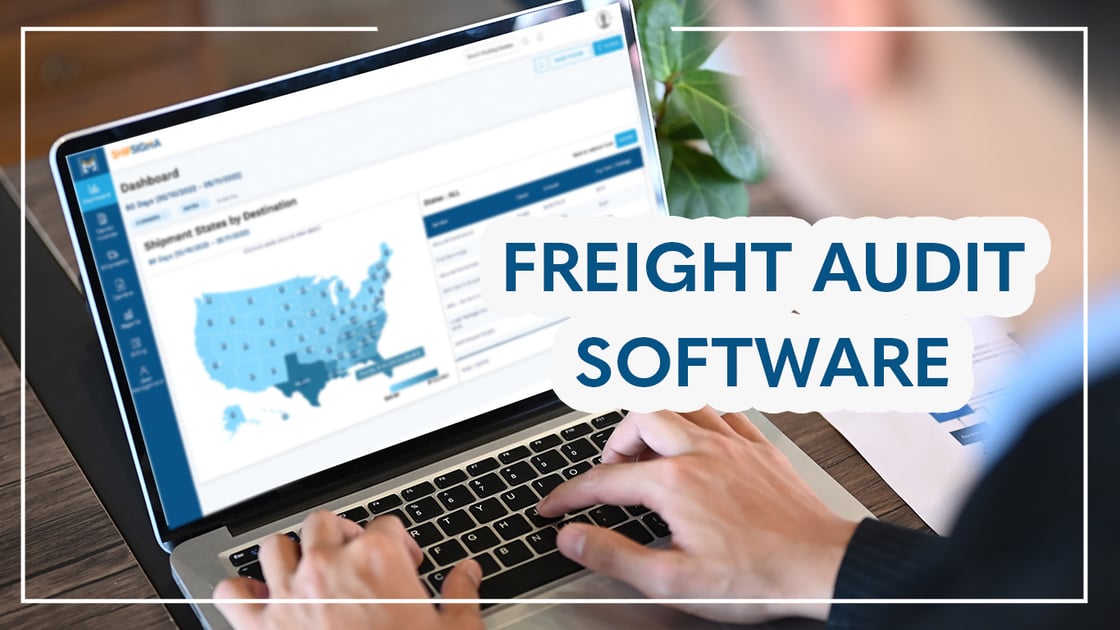 Freight Audit Software
Does your business currently conduct a regular freight or parcel invoice audit? If not, then you're losing money–even if you've negotiated the best contract in the world. The truth is, shipping logistics have only grown more complicated in the last several years, and supply chain issues are expected to persist well into 2022. That means more late deliveries and damaged freight, which can lead to a stain on your reputation and bottom line.
So, what can you do?
In this article we'll answer "Why should you perform a freight bill audit?" and go over how freight and parcel audit software can streamline your freight audit process and save you money–up to 25% when combined with contract negotiations!
Why Are Freight Audits Important?
Freight audits are important because they ensure you're getting the services your carrier agreed to at the rate they promised. Even successfully negotiated contracts can contain unexpected costs once the shipping process is carried out.
Mistakes can happen even when your carrier is putting forth their best honest efforts. Late deliveries, duplicate charges, incorrect weights, and lost shipments are all unfortunate parts of the shipping process. While these mistakes can't be eliminated, you shouldn't be responsible for them. Conducting regular freight audits helps you to identify overlooked charges and get refunded by your carrier.
At its core, audits are needed for freight reconciliation. So, what is freight reconciliation? This process compares your freight payment with each invoice to search for discrepancies. You paid for an entire truck of pallets to be delivered, but were any damaged during transport? A freight audit identifies if they were so you can request a refund from your carrier.
What Is Freight Audit Software?
Freight audits can be time-consuming and prone to human error, but with freight audit software, you can automate the process and cut down on mistakes. Most programs have functions to store and sort your payments, invoices, and other relevant data. To streamline the process even more, you can integrate freight audit software with your workflow program so you can see when what you're paying doesn't align with the service you're receiving.
When it comes to increasing your consistency and accuracy of freight audits, using software is a huge step up from conducting manual audits. However, you still need to be diligent when entering data and interpreting the results of the audit.
So, you've decided to implement freight audit software, but you want to take your process to the next level. What's next? Combining your software with a team of analytical professionals can ensure that you not only identify overlooked charges but can chart the best path going forward. At ShipSigma, we use AI-driven technology to completely eliminate human error while integrating live market data. And the best part? We send regular reports so you can make the most informed decisions that save you money.
Freight Audit Checklist
The first step to saving big is to see where you currently stand with your freight auditing. Here's a checklist to get you started:
Basic Freight Audit Checklist
Conduct manual freight audits at regular intervals.
Collect and organize invoices and expenses from the past 1-5 years.
Compare how much you've been paying to your contracted rate and the services you've received.
Identify discrepancies and ask your carrier for refunds for faulty or incomplete services.
Analyze your data for repeated mistakes in service to develop a plan for a more efficient process going forward.
Advanced Freight Audit Checklist
Use freight audit software, managed by your internal auditing team, to sort data like payments and invoices.
Automate the auditing process and focus more on analysis to prevent recurring errors instead of having to catch them time and time again.
Emphasize accuracy when updating data so that your software can make correct comparisons.
Expert Freight Audit Checklist
Trust a third-party parcel audit service provider to manage and conduct your invoice audits using a freight audit software program.
Reinvest saved time and energy to contribute to the business in more effective ways.
Gain additional insights from your service provider's analysis, so you won't miss out on opportunities for savings now or later.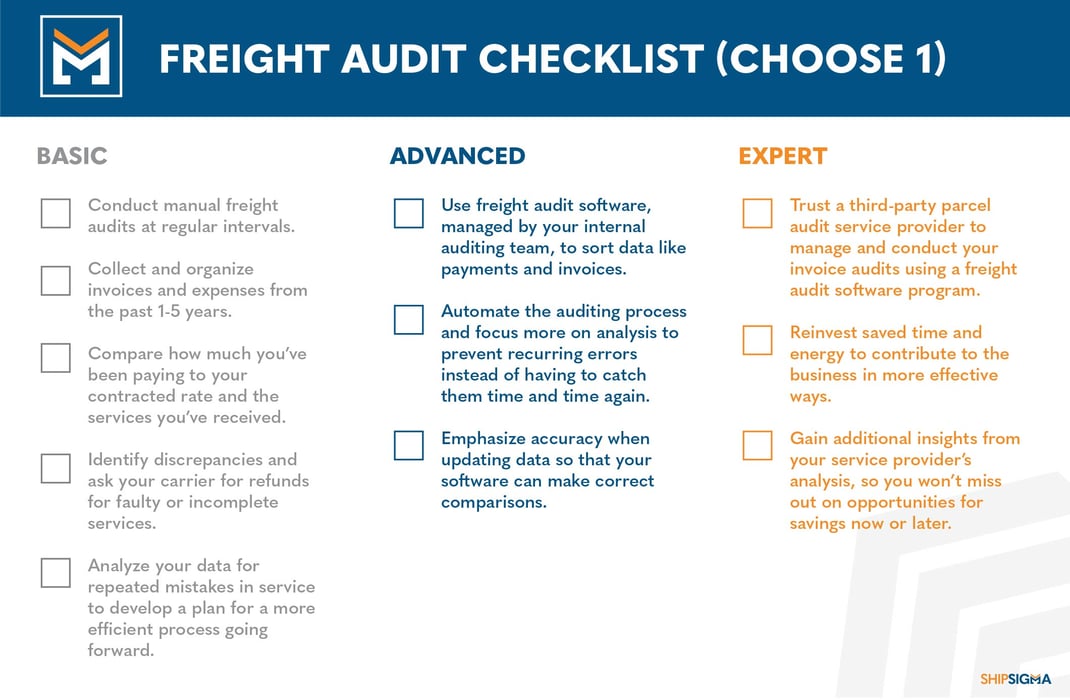 If your business isn't checking all of the boxes for expert freight audits, then you're leaving money on the table. The good news is that by partnering with a third-party freight auditor, you can skip right to expert level.
Get the Most Out of Your Freight Audit Software with ShipSigma
Do you want the cost-saving benefits of freight or parcel invoice audits without having to restructure your team to conduct them on a regular basis? ShipSigma specializes in saving your business time and money with our auditing software and analytics team.
Here's why businesses continue to trust us to hold their carriers accountable:
Average cost savings of 25.2% when auditing services are paired with contract negotiations
Over $92 million in customer savings
Meaningful results within a month
We guarantee savings, and if we're wrong, you don't pay us a dime
Contact us today to learn how you can get the most out of your carrier contracts.